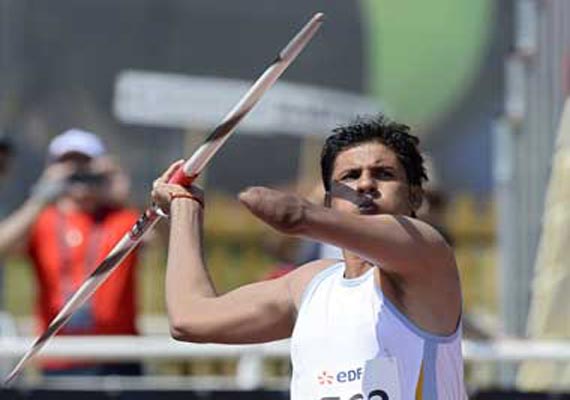 New Delhi, July 22: Paralympian Devendra Jhajharia scripted history for India as he gave the country its maiden gold medal in the World Paralympic Championships in the javelin throw (F-47 category) in Lyon, France.
According to information received here, the 32-year-old Devendra, whose left arm was amputated after an accident, won the gold medal Sunday by hurling the javelin to 57.04 metres, his personal best performance.
The Indian, a class IV employee with the Railways, got some stiff competition from Iralian Mirshekari Abdolrasoul, who also bettered his personal mark of 51.34m pegging the spear at 52.62m for the silver. Egyptian Ismail Mahmoud got the bronze with a throw of 50.22m.
An elated Paralympic Committee of India (PCI) president Sultan Ahmed announced a cash award of Rs.5,00,000 for Devendra.
"I think Devendra's gold medal will boost the paralympic athletes in the country. We have a huge wealth of talent in the country and we have to support them. We are thankful to the sports ministry and the Sports Association of India (SAI) for all support they gave to the athletes for training purpose," Ahmed, an MP from Trinamool Congress, told IANS.
Devendra, who hails from Rajasthan's Churu district, which is the gateway to Thar desert, also has the world record in the F-46 category to his name when he hurled the javelin to 62.15m in Athens Paralympics in 2004.
Son of Ram Singh, a farmer, Devendra was passionate about sports from his school days.
"Sport is where an entire life can be compressed into a few hours, where the emotions of a lifetime can be felt on an acre or two of ground, where a person can suffer and die and rise again on six miles of trails through a park," said Devendra.