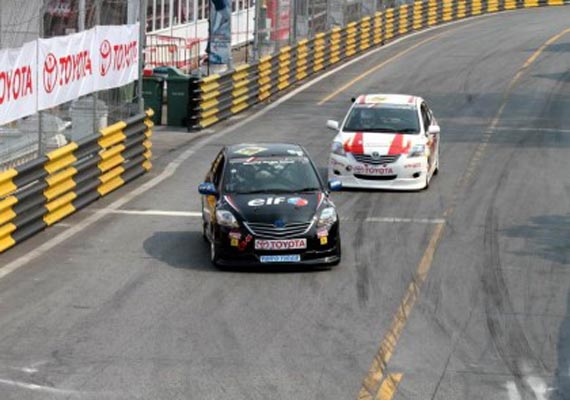 Bangalore, July 24:  The inaugural Etios Motor Racing (EMR) Trophy series will commence in Chennai as a part of the FMSCI National Racing Championship organized by Madras Motor Sports Club, it was announced here Tuesday.
Toyota had launched the one-make racing concept last year at the Auto Expo in New Delhi followed by motorsport activities across the country which included two exhibition races at Chennai and Gurgaon.
The EMR Trophy will make its debut in the third round of the National championship that will be held in Chennai on July 27-28 at the MMRT circuit.
There will be four EMR races over the weekend and the winners of each individual race will receive a trophy and a cash prize. Apart from the three podium finishes, the most promising young driver will also be entitled to a trophy and cash prize.
The next racing weekend for the 25 young EMR drivers will be at the Buddh International Circuit at Noida in September during the fifth round of the National Racing Championship.
N. Raja, senior vice president (marketing), Toyota Kirloskar Motor, said: "2012 was an excitement filled year for EMR, right from its official launch at the Delhi Auto Expo to the two hugely successful exhibition races at Chennai and Gurgaon, and finally international exposure at the Colombo Night Race in December.
"EMR also saw a lot of excitement amongst the youth during the driver selection and training camps which were held in various cities. We also took EMR to all our dealerships across India to give our customers a taste of Toyota's motorsport experience and it was very well received.
"As we begin our season in 2013, we look forward to a lot of thrill and excitement as our drivers are all geared to take on the National Racing Championship."
The 25 EMR drivers selected last year will compete for the EMR Trophy over eight races this year.The best three EMR drivers after two rounds of the series will also have the opportunity to race at the Vios Cup scheduled to take place in Thailand this year.