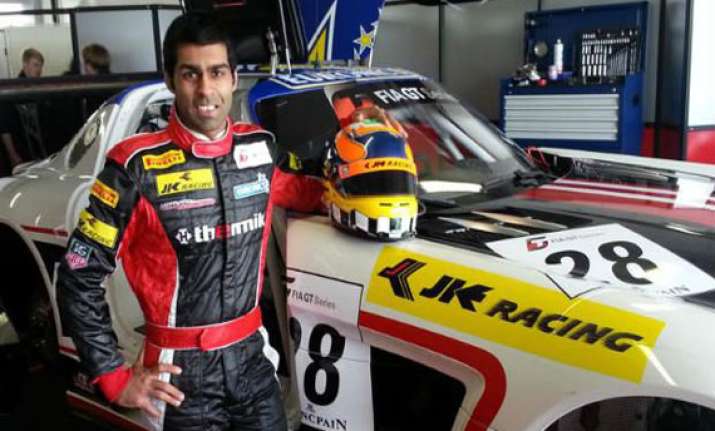 Le Mans, June 23: India's Karun Chandhok and his team Murphy Prototypes came back from second last place in the LMP2 category to finish in seventh position at the Le Mans 24 hours race here on Sunday.
Murphy Prototype and their drivers Brendon Hartley, Mark Patterson and Chandhok lost five laps in the first couple of hours. Then Patterson suffered a spin to put the team in second last and 37th overall.

Chandhok and Hartley, in the LMP2 Nissan V8-powered Oreca 03, drove out of their skin with long three-hour stints to claw the team back into seventh position and 13th overall.

For Murphy Prototypes, a problem with a faulty sensor meant an earlier-than-scheduled pit stop for Hartley who had started the race. He was followed by Patterson who had a short trip over the gravel early on and third up was Chandhok.

Chandhok, who is supported by JK Tyre and Tag Heuer, said: "We lost 5 laps in the first three hours which was a shame. We had to change the ECU twice and then Mark unfortunately went off. This dropped us to second last in class and 37th overall."

Murphy Prototypes made efficient progress in the night stint with Hartley and Chandhok behind the wheel, dipping into the 3:41s as the fastest car in its class from time to time, encountering no significant problems.

After stellar night stints from Hartley and Chandhok, Murphy Prototypes made it back into the top 10 in LMP2 and were within reach of the Level 5 Racing team. Patterson had a brief scare when Benoit Treluyer brushed against him attempting to get his lap back from Alex Wurz, but no major damage was inflicted.

Chandhok was confident of the pace in the car and was frustrated to not get more at the end. He said: "We were quick which made it more irritating. At night, I was quickest on the track in the wet and dry and Brendon was fastest on track this morning. We dragged ourselves back up to seventh in class and 13th overall from nowhere."

Chandhok could not hide his excitement at another successful Le Mans race. He commented: "I thoroughly enjoyed the experience once again and can't wait to come back year after year.

"Racing here in the day and night is one of the most special experiences in the world. The night stint was much harder this year! I was in the car from 2.30 a.m. to 6.20 a.m. which was very tough but we made up big time in the leaders especially when it rained in the dark."

Sadly, the first reports from 2013 Le Mans will always be remembered by the news that Danish racer Allan Simonsen died shortly after crashing on lap four of the race. The GTE-Am Aston Martin racer was 34.

Chandhok commented on the crash: "I have to send out my condolences to the family of Allan Simonsen and the entire Aston Martin Racing team. It's the first time I've been at a race when someone else competing has been killed and it's a huge shock."