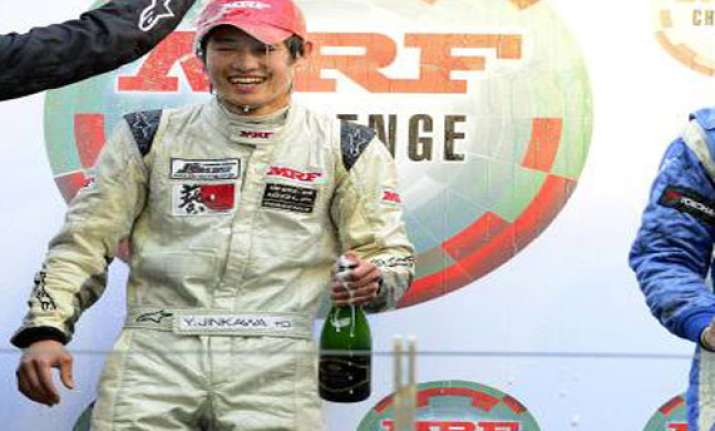 Coimbatore, Jun 23: Japanese driver Yudai Jinkawa won Race two of the MRF 1600 race in Round 2 of the MMSC-FMSCI National Racing Championship ahead of Sudarshan Rao and championship leader Ashwin Sundar here on Sunday.
Sundar, starting last, fought his way up to third place after a last lap move on Goutam Parekh. In front Jinkawa cruised to victory with Sudarshan not getting close enough to challenge him.
Vikash Anand drove well to finish in fourth place with 15-year old Tarun Reddy finishing in
fifth place after damaging his front wing with a crash with Sundar, who continues to lead the championship.
The Indian Touring Car races were closely contested with championship contenders N Leelakrishnan and Arjun Balu winning races one and two respectively.
In other races, S Narendran capped off a strong weekend by winning both races of the Formula LGB4 & Swift.
Earlier in the day Gokul Krishna won his first race in the India Junior Touring Car championship ahead of Charen Chandran and race one winner Mihir Dharkar.
Race 1 of the day saw the Indian Touring Cars in action with Arjun Narendran on pole ahead of local favourite Arjun Balu. Both got off the line really well and had a great battle in the first half of the race with Leelakrishnan right behind them.
The leaders then collided sending both drivers backwards and Leelakrishnan getting past both of them. Leelakrishnan went on to win the race with Ramnarayan in second and Arjun Balu fighting back to finish in third place.
Race 2 of the day was the Formula LGB4 & Swift with S. Narendran on pole. Narendran won from start to finish with Jigar Muni in second place and Sudanand D in third place. There was no difference in the second race of the Formula LGB4 & Swift with the drivers finishing in the same order and making it two out of two for Narendran.
The Indian Junior Touring Cars were next up with Gokul Krishna and Charen Chandran starting on the front row. The main battle was behind them with wheel banging between Mihir Dharkar and Feroze Khan.
Feroze got past Mihir to finish in 3rd place but was given a 20 second penalty for an incident and finally ended up in 11th place. Gokul withstood pressure from both Charen and Feroze to win his first race in the IJTC.
In race 2 of the ITC championship, Arjun Narendran started on pole ahead of Arjun Balu. Balu had a great start and went into the lead with Arjun passing Ramnarayan on lap 3.
From there on it was a close battle between the two Arjun`s. It was as close as it could get on the last lap with Arjun Balu just winning by 0.048secs ahead of Arjun Narendran to record one of the closest ever finishes in the ITC history.