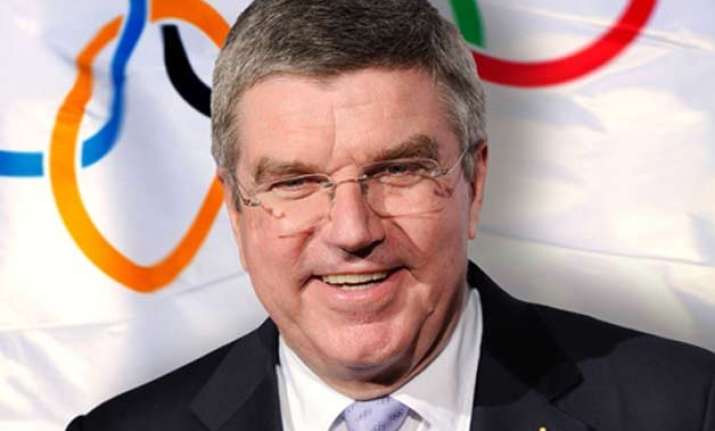 New Delhi: International Olympic Committee (IOC) president Thomas Bach will meet Prime Minister Narendra Modi today during his one-day whirlwind visit to discus ways to take Indian sports forward amid speculation that the country might bid for 2024 Olympics.
Bach, who is on his first visit to India after taking over as the head of IOC in 2013, arrived here late on Sunday.
"PM Modi and I will talk about any issue he may want to discuss. I think it will be a very good meeting," he said.
The crucial meeting of Bach with the Prime Minister has been scheduled for 5pm.
Sports Minister Sarbananda Sonowal is reportedly hosting a lunch in honour of Bach which will be for a select gathering.
Bach, who hails from Germany, is likely to interact with the media before leaving the country tomorrow night. He is expected to fly to Australia from India to discus Brisbane's possible bid for 2028 Olympics with Prime Minister Tony Abbott there.
IOA and Sports Ministry officials are tight-lipped on whether India will express its desire to bid for the 2024 Olympic Games during Bach's meeting with the Prime Minister. Randhir Singh, who was the IOC member from India from 2001 to 2014 and now its honorary member, said that Bach's visit will bring Olympic sport at the forefront in the country.
"No doubt, his visit is important. He (Bach) wants India to do well in Olympics. Our Prime Minister is a pro-active person and he thinks of Indian sports and sportspersons. Let us see what happens in the meeting (between the PM and Bach)," Randhir, who is currently the Secretary General of Olympic Council of Asia, said.
"If the government expresses its desire to bid for the Olympics, may be in 2024 or later, it will be good for Indian sports and Indian youth. We have to wait and watch in that regard," he added.
 (With Agency inputs)