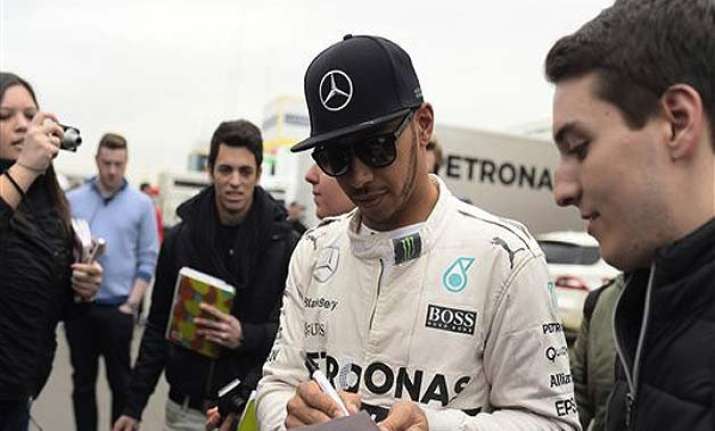 London: Celebrated F1 driver Lewis Hamilton might have won the World Championship last season but he is still hungry for more races, involving battling and overtaking and wants more competition in this year's Formula One season that gets underway in Melbourne on March 15.
The Mercedes AMG Petronas driver, Hamilton won 11 Grand Prix, while his team-mate Nico Rosberg clinched five to give their team a comfortable victory in the World Constructors' Championship in 2014.
"I like to race, I really like to race. The 2015 cars are going to be evolutions of last year's cars, so it'll be the same people that we were racing with last year. Red Bull, Williams, and then you're hoping that it's a bit of a better year for those like McLaren and Ferrari, so that we have more people to race. The more the merrier," Hamilton said.
"There was one year the first seven races were won by a different driver, a different team, that's what people want to see. But, most importantly, if the cars are close you can have real races where you're overtaking and battling and that's what I love doing. That's what racing's about."
Hamilton, who turned 30 this January, wants to compete for another seven or eight years but insists he won't hog his seat if he feels he is not being competitive.
"If I'm lucky enough to be able to live out my whole Formula One career then I think I've got a good seven, eight years left in me," said Hamilton, who was the winner of the Laureus Breakthrough of the Year Award in 2008.
"I'm sure I could go longer, but I think there's only 22 seats in Formula One, so you've got to imagine that there's going to be kids coming up along the way. I don't plan on hogging my seat, particularly if I'm not competitive in my later years. I'll definitely stop.
"Of course I look ahead to try and imagine what my life will be like in the future, but to be honest, generally the way I live my life is day by day, because I honestly believe you never know when it's going to be your last day, so I want to make sure that I enjoy as much as I can whatever it is I'm doing, workwise or in my personal life.
"I've been so fortunate to have this incredible career, the incredible life that I have, the family, good people around me, so I try and enjoy it. There's so many youngsters or people in the world who would love to be doing what I'm doing," he added. .
Hamilton said he is 'very grateful and proud' to be one of the six nominees for the Laureus World Sportsman of the Year Award, following his thrilling victory at last year's world championship.
"I think 2014 was definitely one of the best, if not the best year of my career, it was just an exceptional year, where the team came together, did an amazing job with the car. We had some ups and downs," he said.
"Even though we were at the front of the field the majority of the time, it was still a challenge to try and improve all the time. But we want to be better this year, we want to try and dominate even more.
"I've never won the big Award at Laureus and obviously seen the greats that have. So, you know, I'd be massively privileged if I was amongst those. Knowing how prestigious the Laureus Award is I feel very, very grateful and proud to be amongst the great athletes that have been nominated."
So can he win a second straight world title ? the third in his career?
With the first Grand Prix just more than a week away, Hamilton said: "I feel fresh, I feel fit. I will plan to drive as good as I did last year, but I want to be better. I hope that we have the package and I hope that we have some good races, but I'm just grateful that I get to race again."