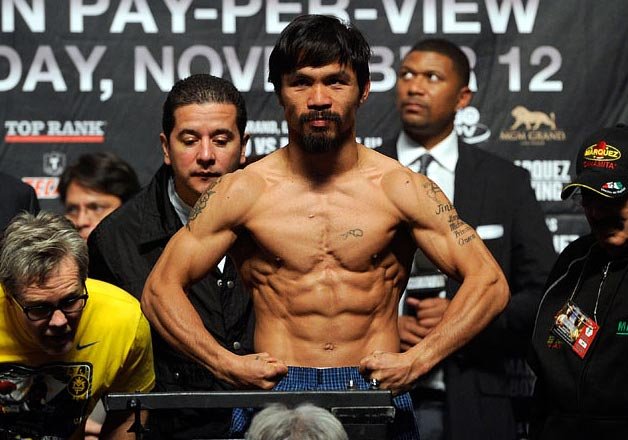 Manila: Filipino boxing star Manny Pacquiao on Friday stood by his anti-gay stance which has kicked up a lot of controversy, asserting that his comments are endorsed by the Bible.
The former world champion had said that gay people were "worse than animals" last Wednesday. But he later apologised after his comments attracted widespread criticism.
But speaking to the media after a short training session in his hometown of General Santos, Pacquiao reiterated his stand, claiming that his statement represents the word of God.
"What I did wrong was just comparing the people to animals, but you know what I am telling is the truth," he said. "I mean I am just telling what the Bible says. We believe God and then we should honour the word of God."
The controversy has also cost the 37-year-old millions of dollars in sponsorships since global footwear giant Nike has decided to cancel its endorsement deal with him, describing his comments as "abhorrent".
But the veteran pugilist insisted that the controversy has not affected his morale.
"I'm happy. I'm always happy because God is with me," he asserted.
Pacquiao, who converted from Catholicism to an evangelical Protestant faith towards the later stages of his boxing career, has joined politics in recent times and is a member of the Philippines' house of representatives.
Earlier, Pacquiao had taken to social media platform Instagram on Thursday and posted several verses from the Bible that support his views.
One of them, Leviticus 20:13, states in no uncertain terms that homosexuals should be killed.
"If a man has sexual relations with a man as one does with a woman, both of them have done what is detestable. They are to be put to death; their blood will be on their own heads."
Pacquiao's post was up for about two hours and got more than 18,000 likes before being deleted. He made his anti-gay comments during a recent interview with Filipino television network TV5.