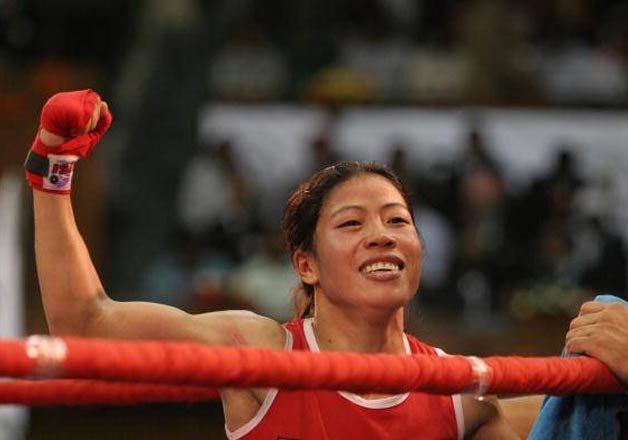 Shillong: India's women pugilists - M.C.Mary Kom, Laishram Sarita Devi and Pooja Rani -- clinched three golds at the 12th South Asian Games (SAG) here on Monday.
With this, the Indian boxers finished with a maximum haul of 10 golds, including seven from the men boxers, on Monday at the North Eastern Hill University here.
India's star woman boxer M.C. Mary Kom beat Sri Lanka's Anusha Kodituwakku Dilrukshi through a technical knockout (TKO) in a flyweight category bout lasting less than 90 seconds.
The five-time World Amateur Boxing champion, who entered the ring amidst loud cheers, was tested in the very first second by a wild swing by the Lankan.
Anusha was injured during the bout, hurting her right knee. The first Sri Lankan boxer to win gold in the 2003 Asian Championship, Anusha, however returned to the ring after nursing her injury.
But her effort was short-lived as in the very next moment she was brought down by Mary Kom's straight punch.
"Anusha has sustained a torn ligament on her right knee. It will take her two-three months to recuperate," a Sri Lankan Boxing official said after the bout.
Sarita Devi was full of energy and delivered powerful punches to rattle Sri Lankan Vidushika Prabadhi in a lightweight category contest.
The Lankan, however, took the bout to the second round and did well to not only resist Sarita's onslaught but make a statement with a straight punch.
Vidushika fared well in the third round too, but was not good enough to beat the Indian, who emerged triumphant, 3-0.
Former national champion Pooja Rani handed over a Round 2 TKO to Sri Lanka's Nilanthi Andaraweer in the middleweight category.
A thoroughly dominating Pooja used her left hooks and jabs to perfection to rattle the Sri Lankan who could not sustain beyond Round 2.