Follow us on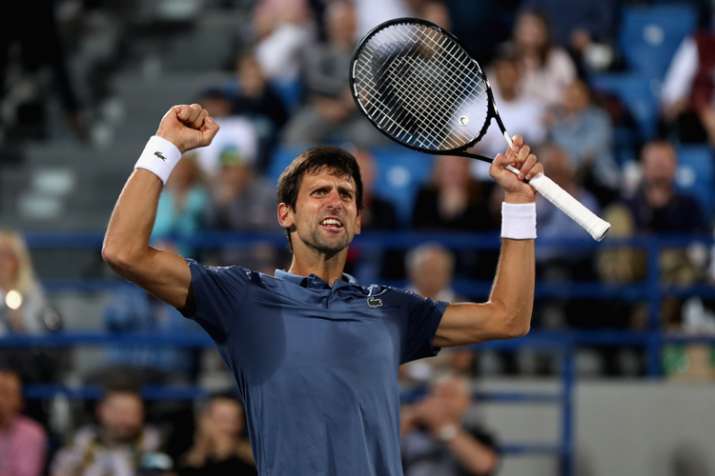 Novak Djokovic, Lewis Hamilton, Mary Kom, LeBron James and Luka Modric were at the thick of things in the world of sports in this calendar year.
While Djokovic completed a dramatic turnaround of sorts, Mary Kom and Hamilton went around their business as usual as they made history.
James and Cristiano Ronaldo on the other hand made jumps that surprised the sports fraternity.
The Serbian returned to the zenith of ATP rankings after a gap of two years in November this year. What makes his rise even more special is that he underwent a elbow surgery in February and reached a ranking as low as 22 in June -- the lowest since 2006 -- before turning his fortunes around.
He will be the year-ending No.1 for the fifth time in his career and in the process will join Roger Federer and Jimmy Connors for the second most since the computer rankings began in 1973. Pete Sampras holds the record of six. 
A change in fortune can also be credited to him being in a 'happy' place now. After a failed stint with Andre Aggassi, Djoker reunited with  Marian Vajda -- his longtime coach and has ended the season with a record of 53 wins and 12 losses in 2018.
The 31-year-old won the Wimbledon and the US Open and took his major trophy haul to 14, tied with Sampras for third most in men's tennis history behind Roger Federer (20) and Rafael Nadal (17).
"Reflecting on what I've been through it's quite a phenomenal achievement. I'm very, very happy and proud-five months ago if you told me that, I always believe in myself, but it was highly improbable considering my ranking and the way I played and felt on the court,"  he said on his achievement.
RECORD-BREAKING HAMILTON
Much like Djokovic, Hamilton had a stellar year. 
The Briton won the 73rd Grand Prix of his Formula 1 career at the 2018 Abu Dhabi GP, tying his own 2014 record for most race wins in a season (11). He also became the first driver in F1's history to exceed 400 points in a single season with 408 points to his name in 2018.
He won the driver's championship for the fifth time and four in five years and to him this was the most complete season ever.
"It's definitely been the best year. Ultimately that was the goal, I won the championship last year and thought how the hell am I going to improve?
"How am I going to be fitter? How can I be more focused? How can I manage my time better? How can I just be better all round, a better driver in the car but also with my team, in the garage, with the engineers, back at the factory, trying to be a better son and friend?
"In all areas, I think this year I have been able to lift them all up. I don't know if that's something that comes with age but I'm sure that helps. I honestly feel like I've performed my best this year so I'm very happy with how it's gone," said an ecstatic Hamilton after the season-ending win.
The 33-year-old is now just two titles away from Michael Schumacher's record of seven championships and 20 wins away from the German's record of 91 grand prix victories. Both are the highest in the sport's history.
MAGNIFICENT MARY!
Another athlete, who extended dominance in her respective field is India's very own Mary Kom.
Mary won a record 6th gold medal at the World Boxing Championships earlier this year after defeating Ukraine's Hanna Okhota via a 5-0 unanimous decision in the 48kg category.
"First of all, I would like to thank, all my friends. They came to see the final. They came especially for me, to cheer for me, and all of us in the contingent Thank you for your love and support. I don't have anything to give you, except for a gold medal for the country. I still hope to win the gold medal for India in Tokyo 2020," she said after her incredible achievement.
With the gold in this edition, 'Magnificent Mary' matched Cuban men's legend Felix Savon as the joint most successful boxer (men and women) in the World Championships history. 
She won a silver in the inaugural edition in 2001 and then went on to win gold in the next five consecutive editions -- 2002, 2005, 2006, 2008 and 2010. 
KING JAMES ARRIVES IN LA
Moving away from out and out success stories, Hollywood city witnessed the arrival of the King.
LeBron moved to Los Angeles Lakers this summer in a four-year deal worth USD 154 million.
With the move, he became the highest earning NBA player. He will be getting USD 35.6 million for the  2018-2019 NBA season and it will increase to 41 million for the 2021-2022 season, according to sports contract website Spotrac.
After the completion of four years, he will have earned over USD 387.2 million -- which will make him the highest-paid player in the history of the NBA.
"You look at the Lakers. Being able to play for a historic franchise with so much history, and now being able to partner with Magic Johnson, someone I kinda like looked up to when I was younger and wanted to make no look passes like Magic, wanted to get on the break and be Showtime like Magic and then for it to all come to fruition at this point.
"I think timing is everything. For me to be in this position now, the excitement that I have to be a Laker, I'm happy to be apart of it because I believe the Lakers is a historical franchise, we all know that, but it's a championship franchise and that's what we're trying to get back to. I'm happy to be a part of the culture and be a part of us getting back to that point," said LeBron after his incredible move from the Cleveland Cavaliers.
RONALDO MOVES TO TURIN
Another big money and impact move that happened in the world of sports was Cristiano Ronaldo's transfer away from Real Madrid after nine successful years.
The Portuguese moved to Juventus from the Spanish capital in a move worth over 105 million pounds -- something that came as a surprise to many.
Ronaldo got increasingly frustrated at Real with his treatment and according to him, he didn't feel the love of president Florentio Perez anymore -- something that prompted him to move to Turin.
The 33-year-old is Real's all-time top-scorer with 450 goals in 438 appearances - including 44 in 44 the previous season, thus, helping them win the third consecutive Champions League.
"I'm going to try to show that I am a top player, as usual. I'm going to work hard in training... I am very ambitious and I like challenges. I don't like to stay in my comfort zone. After the experiences in Manchester and in Madrid, I'd like to mark the history of Juventus."
MODRIC BREAKS THE DUOPOLY
Talking of Ronaldo, one name comes to mind and that is Lionel Messi. And, after 10 years of dominance, their hold over the Ballon d'Or came to an end in 2018.
Luka Modric, who had a dream year, finally ended the domination between Ronaldo and Messi and capped off a sensational year with the Ballon d'Or.
The Croatian won the Champions League with Real and then played a key role in Croatia's run to the World Cup final in Russia and was also awarded the Golden Ball for his stellar campaign.
Modric one would say was also helped by the fact that neither Messi nor Ronaldo did something great in the World Cup this year.
"It's an unbelievable feeling, and a big pleasure to be here among all these players.
"I am still trying to realise that I have become part of a group of exceptional players. To win means I did something really special on the pitch this year, that's why 2018 was the year for me," Modric said after lifting the coveted trophy.