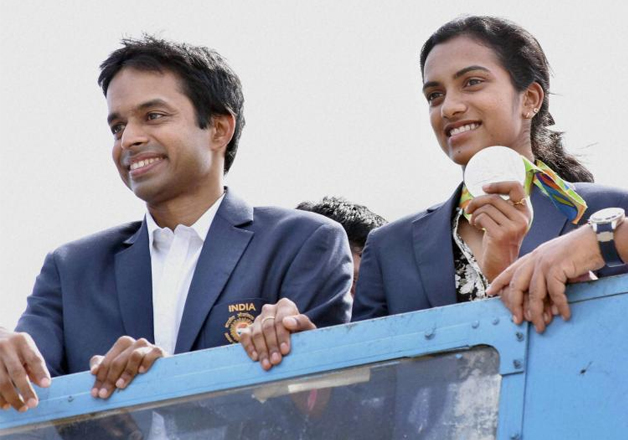 Reacting to Telangana Deputy CM Mohd Mahmood Ali's offer of 'best' coach, Rio Olympics silver medallist PV Sindhu on Wednesday said that her present coach Pullela Gopichand is the best coach and she has no plans to leave his academy.
"For me, Gopichand sir is my best coach. I don't want to comment on what minister said," Sindhu said, ending speculations of being coached by anyone else other than Gopichand.
Telangana Deputy CM had said that the state government will provide her with a 'very good coach to make sure she will get a gold medal'. However, his office later said it was a 'generalised statement' and that Minister was quoted out of context.
PV Sindhu lost to Span's Carolina Marin in the women's singles final at Rio Olympics to settle for the silver medal. Before this Saina Nehwal's bronze medal win was the best finish by an Indian badminton player at Olympics and that too under Gopichand's coaching.
Responding to superstar Rajinikanth's congratulation for her amazing performance against world's number 1 shuttler, she said that 'being congratulated by the 'Thalaivar' made her day'.
"Sir thank u so much sir. I have no words… it made my day. I have no words to express," the 21-yr-old Hyderabadi girl tweeted.
Soon after the end of final match, Rajinikanth had tweeted he was a big Sindhu fan after her power-packed game at the Olympics final. His tweet went viral on the micro-blogging site and has raked in over 21,000 retweets and 47,000 likes.
Sindhu has been given cash awards of Rs 5 crore and Rs 3 crore by the Telangana and Andhra Pradesh governments, respectively. Both governments have also offered her a Grade-1 government job.