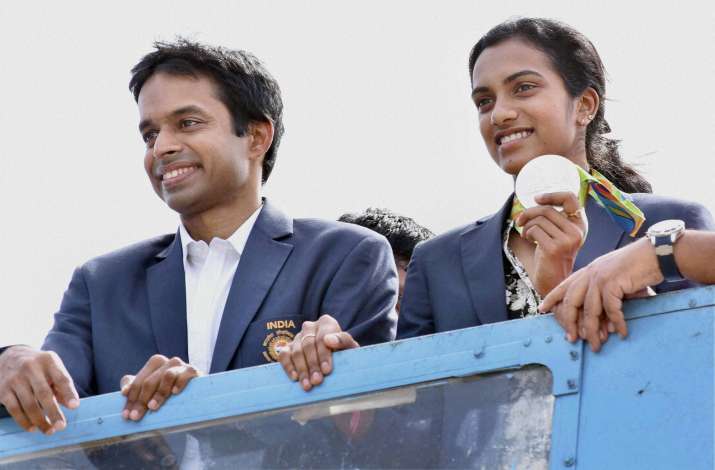 Post a thunderous state reception accorded by the Telangana and Hyderabad governments on home coming, Olympic silver medallist PV Sindhu rode in an open double-decker bus as lakhs of fans gathered around cheering her name. After this, Sindhu took a victory lap along with her coach P. Gopichand in a jeep in a jam packed stadium in Hyderabad.
"I am really really happy that my dream has come true," said PV Sindhu in a press conference at the Gopichand academy.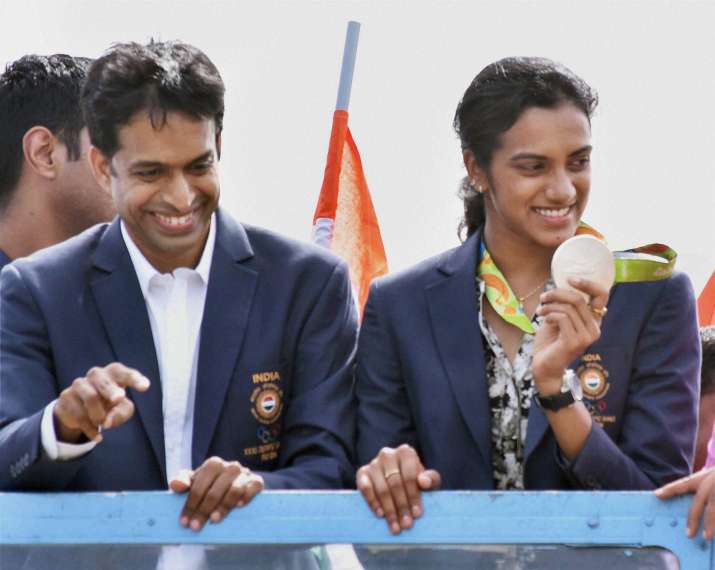 On her fellow badminton player Saina Nehwal, Sindhu said she has done India proud in many tournaments already. "Saina has performed really well and won many tournaments, she has done a great job," said Sindhu.
The man behind Sindhu's success at the Rio Olympics, Pullela Gopichand, too seemed ecstatic on the occasion.
He said, "When you give in your best and push hard, there is enough reason to be proud about."
For Gopichand, the proudest fact about Sindhu was "at the big stage when it was needed, she performed best to her capabilities."
Earlier in the day, Ms Sindhu was given a grand welcome at the Rajiv Gandhi International Airport (RGIA) in Hyderabad. Scores of fans thronged the airport to witness the celebratory atmosphere.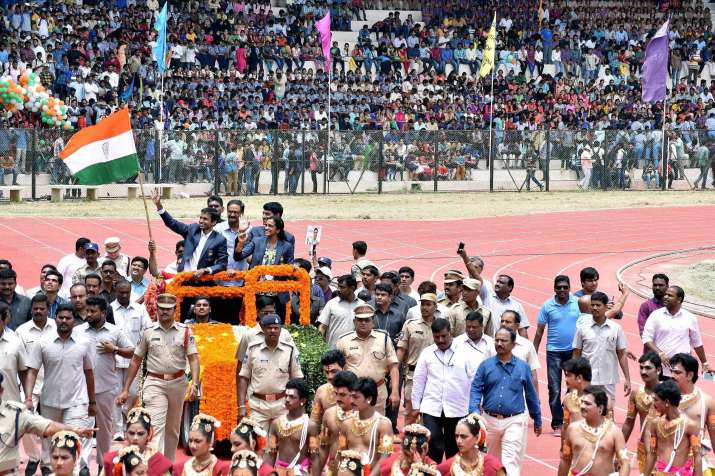 Amid scenes of jubilation and loud cheers from scores of people, Sindhu, accompanied by coach Gopichand, was greeted by her parents -- P V Ramana and P Vijaya -- besides Telangana Deputy Chief Minister Mohd Mahmood Ali, and some ministers from Telangana and Andhra Pradesh.
Telangana IT Minister KT Rama Rao lead the reception along with senior officials and all necessary arrangements have been made in this regard.
While congratulating Ms Sindhu for her feat, Telangana Chief Minister K Chandrasekhar Rao, after chairing a Cabinet meeting on Saturday said, "a grand welcome would be organised on her arrival in the city on August 22".
Telangana government had announced Rs. 5 crore cash reward to Ms Sindhu, a 1,000 square yard housing site near the Pullela Gopichand Badminton Academy in Gachibowli and suitable government job, if she is willing.
Hyderabad Collector Rahul Bojja, Greater Hyderabad Municipal Corporation (GHMC) Commissioner B Janardhan Reddy along with heads of various departments today reviewed the welcome arrangements and also inspected the routes from where the motorcade will pass.
Telangana government had also announced cash prize of Rs. 1 crore to Ms Sindhu's coach P Gopichand.
On August 19, the 21-year-old from Hyderabad faced world no. 1 Carolina Marin of Spain 21-19, 12-21, 15-21 in a pulsating final that lasted for an hour and 23 minutes.
Ms Sindhu, the two-time World championship bronze medallist, became the first Indian woman player to clinch a silver in the Olympics and fifth woman player from India to win a medal in the quadrennial games.