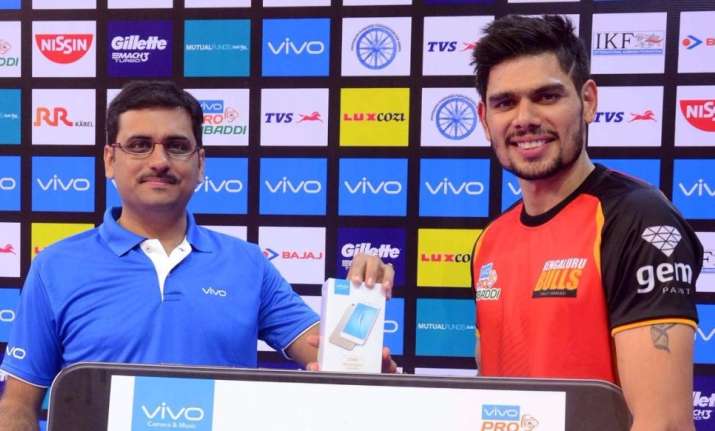 Bengaluru Bulls plan to put to best use the deadly partnership of raiders Rohit Kumar and Ajay Kumar and in this Pro Kabaddi League (PKL) campaign, the pair could be one of the best combinations of the ongoing fifth season. While Rohit is a touch-point predator, Ajay complements him as a "specialist" in do-or-die raids and collecting bonus points. They have continued from where they left in the previous edition of the league.
As seen in PKL's fourth edition, in which Rohit and Ajay scored 154 points between them and in this campaign too, they have signalled a repeat of their precocious raiding skills when they knocked out Telugu Titans on Sunday. While Rohit accumulated 12 points, Ajay earned seven points. Overall, both have a raid strike rate above 45.
Rohit is the go-to man for coach Randhir. Bagged at a price of Rs 83 lakh, the 27-year-old is an all-round package in terms of raiding skills. His agility, awareness and energy make him an elite raider.
"He is currently one of the best raider in the sport and gives his all for the team. He keeps his cool," Bengaluru coach Randhir said about the player who was part of the title-winning Patna Pirates side in the third edition.
Ajay is Randhir's second-choice raider. But he is the coach's first-choice to save the team in the crucial third raids. He eases the pressure on skipper Rohit so that the latter can remain on the field for a longer duration.
"Ajay is very good when it comes to do-or-die raids. He is calm and collected. He waits till the very end to see a weakness in the rival defence. During do-or-die raids, even big names lose their nerves but Ajay remains composed and patient," Randhir told IANS.
"He has plenty of scope for growth. He is still learning. We have worked a lot on his movement and positioning but his cool nature ultimately stands him in good stead," Randhir said.
Rohit added: "Ajay is a specialist in getting bonus points. He has great awareness."
Now, with both at their best, Bengaluru aim to ride on the duo's success as the southern outfit is yet to clinch the title. They have finished in the top three in the first two editions. In the next two editions, they have finished seventh and sixth, respectively.
Randhir felt that he has a squad mixed with experience and youth. "The average age of my squad is 21 years and in this longer season, fitness can be a big determining factor."
Bengaluru will play their next match against Tamil Thalaivas on Friday at their adopted 'home' in Nagpur.
(With IANS Inputs)