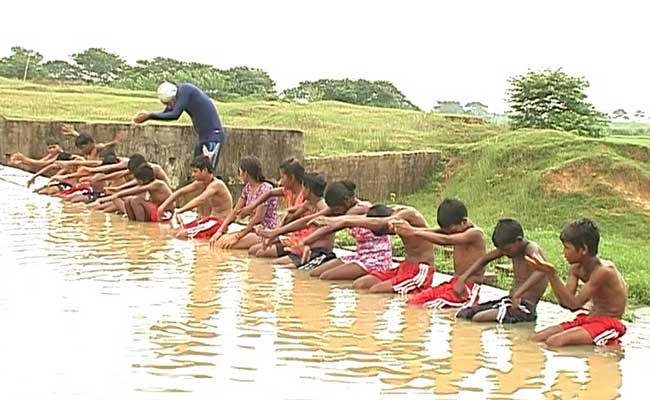 While others are busy digging reasons for India's dry spell at the Olympics this year, a bunch of budding athletes have already begun work to accomplish India's aspirations at the 2020 Olympics.
Although the conditions are not in their favour, 16-year-old Rekha Kumari and her other buddy swimmers go up against all odds only for their resolve for a podium finish at the next Olympic games.
Even if that entails waking up early in the morning, going up 10 km outside the state capital of Ranchi and practicing at a local dam, each day.
Having no access to a swimming pool, they are being trained by the Swimming Federation of India in partnership with a foundation as part of a countrywide programme at a dam, which is understandably risky considering the monsoons.
Umesh Kumar, the coach of the children, conducts an hour-long practice session at the dam.
"How do you teach students to dive in this dam? There are no proper diving points. I wish the government does something about it," he said.
Aiming a medal in the 2020 Olympics, Rekha Kumari says, "Yes, we are afraid. But we have to do this. I want to win an Olympic medal."
While picking loopholes in athletes' performances at the Olympics is easy, the same does not go for these young achievers. Their aspirations and grit can act as an inspiration for many. While their condition is infuriating, what makes matters worse is the irony that our sports administration presents.
What else cpould explain the dismal conditions in which our budding Olympians practice, given that there is a full-feature swimming complex, with Olympic-sized pools, present at a sprawling stadium built in 2011 for the National Games.
For reasons unexplained, the pool has not been functioning for the last two years, leaving athletes no options but to make their own arrangements for practice.