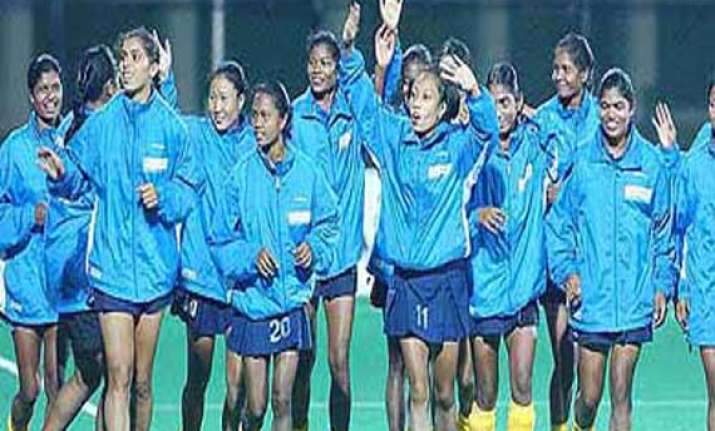 New Delhi: The Indian women's hockey team will depart for Ireland Wednesday night to participate in a three-match Test series to prepare for the FIH Champions Challenge 1 in Glasgow starting April 27.
The team will play Ireland April 15, 17 and 18 in Belfast. The series will help the Indian players acclimatise ahead of the Champions Challenge 1 in Glasgow to be played from April 27 to May 4.

The 18-member team is captained by midfielder Ritu Rani. Navneet Kaur and Neha Goyal will be making their international debut a the tournament.

"This is something that the Indian team has been looking forward for a long time. After playing our last international nearly six months ago, this is the starting point to build-up to the Commonwealth Games and the Asian Games," chief coach Neil Hawgood said.

In the Champions Challenge 1, India is placed in Pool A with South Korea, Belgium and hosts Scotland while United States, South Africa, Spain and Ireland are placed in Pool B. India will play South Korea in its opening match (April 27).

Post the matches in Ireland, the team will reach Glasgow April 21.

The squad of 18 players:

Goalkeepers: Yogita Bali (47 caps), Savita (65)

Defenders: Deep Grace Ekka (44), Deepika (112), Sunita Lakra (15), Kirandeep Kaur (133), Namita Toppo (32), Monika Malik (9)

Midfielders: Sushila Chanu (61), Ritu Rani (165) captain, Lily Chanu (22), Chanchan Devi (97), Soundarya Yendala (87)

Forwards: Anuradha Devi (57), Poonam Rani (99), Vandana Katariya (85), Navneet Kaur (0), Neha Goyal (0).