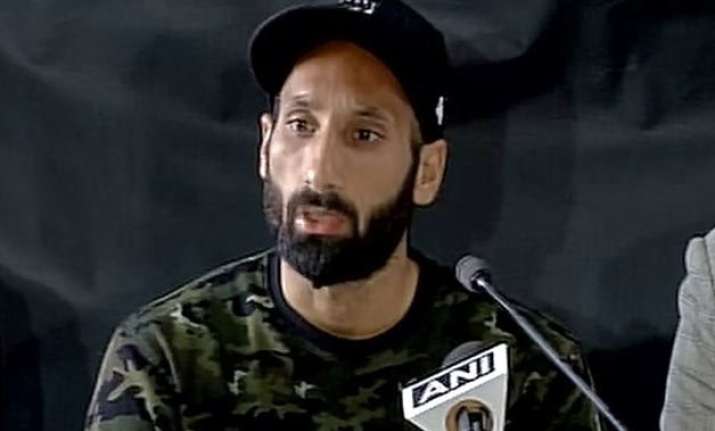 New Delhi: Indian hockey team captain Sardar Singh today dismissed allegations made against him by 21-year-old British woman Ashpal Kaur Bhogal who claimed to be his fiancée.
Terming the charges against him as inappropriate, he also categorically denied allegations of physical assault or relation and forced abortion with Ashpal Kaur.
Dismissing reports of engagement Singh said that there was no ring ceremony between us; she was just a good friend.
Claiming that Ashpal was just a good friend, Singh said that he had inform hockey India officials Ashpal started stalking him and also used his twitter accounts to post misleading tweets.
The Indian-origin woman, who is a former Under-19 England player, claimed to have been in a relationship with Sardar for the past four years and alleged he tortured her "mentally, physically and emotionally", even forcing her to undergo an abortion last year.
The 21-year-old, in a startling revelation, has also claimed that Sardar, whom she met during the London Olympics in 2012 and has been engaged to him for the past four years, also forced her to abort their child in 2015.
"We have been in a four-year relationship which was known to all in India and abroad. I met him during the London Olympics and he finally proposed to me during the 2014 World Cup in Hague. He then invited me to his native village where Sardar and his family formally initiated the engagement," she alleged.
"After this me and Sardar were expecting our first child in mid-2015. I spoke to him regarding this and he said sorry I don't want to have the child and you must abort it immediately otherwise I won't speak to you and there will be no contact.
"So under pressure and with him also threatening and blackmailing me physically and emotionally, I aborted our child under the consultation of my parents. After this, Sardar abandoned me," the woman further alleged.
The complainant said she filed the FIR to make public Sardar's fraud and the injustice which she has meted on her.
"I filed the FIR because Sardar has resorted to fraudulent means. He lied to me, cheated me, physically, mentally and emotionally abused me," she said.
"It has come to the point now that I need justice as a woman. If Sardar has any self-respect, he will call me or contact my lawyers. I have full faith in Indian law and Indian judiciary," she concluded.