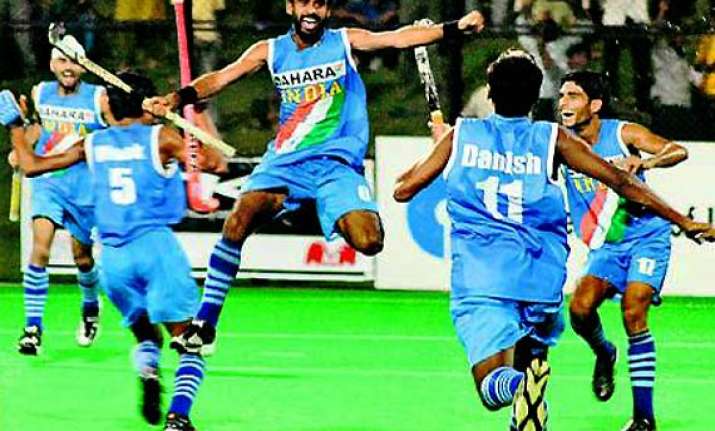 Johannesburg, Nov 28: High on confidence after their massive win over hosts South Africa, former champions India would be aiming to top their group when they take on a lowly Poland in their last Pool A match of the Champions Challenge I hockey tournament here tomorrow.

Moving into the quarterfinal stage, India would be desperate to carry on the winning spree, especially after drawing 3-3 against Belgium in their tournament opener.

The seven goals against a formidable South African side has not just reinforced self belief among the Indians, it has also provided them a chance to top the preliminary group by beating minnows Poland.

Going into the final round of preliminary phase matches, both India and Belgium have four points apiece from two outings but the European team is leading Pool A because of their slightly superior goal-difference.

But a win against Poland will give India a chance of topping Pool A, which means that they will play the bottom placed side from Pool B in the quarterfinals.

The International Hockey Federation's (FIH) new format for the event assures all eight competing teams a place in the quarterfinals, but top finishers in the pools will get an easier passage into the semifinals.

Tomorrow's match against Poland will also allow the Michael Nobbs-led Indian team management to assess the side ahead of the all-important Olympic Qualifiers in New Delhi next year.

India coach Nobbs, however, is pleased with the improved performance of his wards, especially the attacking formations, so far in the tournament.

"We're doing well with our attacking formations, but still need to work on our defence," the Australian said as the Indians took a well-deserved rest day after two tough matches against Belgium and South Africa, both having already booked their ticket to London Olympics.