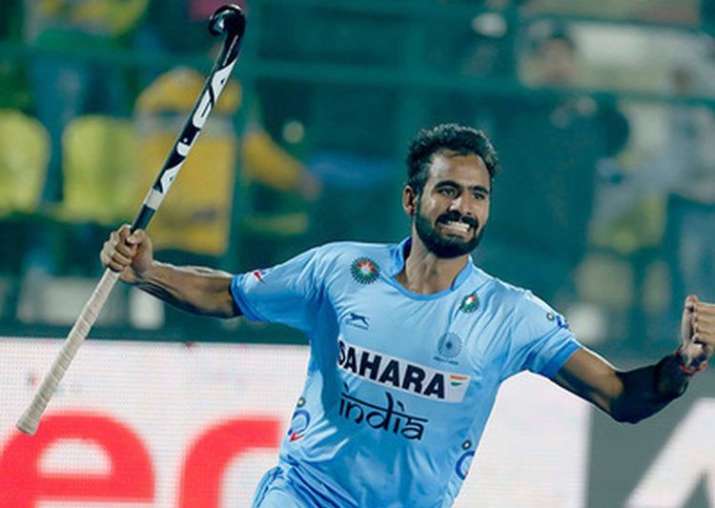 Striker Gurjant Singh scored a double (42nd, 57th), while Shilanand Lakra (10th minute), Sumit Kumar (48th) and Ramandeep Singh (51st) chipped in with one goal each as India outplayed Malaysia 5-1 to register their first win in the 27th Sultan Azlan Shah Cup, at Ipoh on Wednesday.
In the first game, India lost to Agrentina 2-3 followed by a draw against England. In the third match, India lost to Australia 2-4.
Coming into Wednesday's match after a stunning 2-1 win against Olympic Champions Argentina, Malaysia were quick to get off the blocks, attacking India's circle with their front runner Faizal Saari attempting the team's first shot on goal. 
He beat three Indian defenders into the circle but couldn't make a potential connection to score. 
But it was India who drew the first blood with an opening goal through Shilanand Lakra in the 10th minute. 
The new entrant in the Indian team did exceptionally well to pick up a baseline pass from Gurjant Singh to tap it over the Malaysian goalkeeper fetching India 1-0 lead.
The following minutes saw Indian goalkeeper Suraj Karkera stay busy at the post as he made some brilliant saves. 
It was Faizal Saari's second attempt to score which was parried away by the young Karkera. He later saved another well-struck shot by Tengku Tajudin.
India did well to dominate with ball possession while their defence stuck to their guns to deny a goal. 
Meanwhile, Surender Kumar, Shilanand Lakra and Sumit Kumar worked in tandem to win the first penalty corner of the match in the second quarter but Amit Rohidas's flick was blocked away. 
Just seconds before halftime, Fitri Saari showed some good stick work to take a shot on goal but went far too wide disappointing the home crowd. 
With just one goal up, India had their task cut out in the third quarter. Conceding a penalty corner three minutes into the third quarter didn't help their cause. 
Faizal Saari, who had missed many opportunities to score early on, was accurate as he fiercely struck the ball past Karkera to equalize in the 33rd minute. 
A penalty corner in the 42nd minute saw Gurjant Singh hold on to the rebound, after Varun Kumar's flick rebounded off the goalkeeper. An attentive Gurjant had to tap the ball into the post to fetch India the much-needed 2-1 lead. 
The action boiled down to the final quarter when India changed gears and attacked the hosts who looked like they were losing steam. 
Though Malaysia won a penalty corner at the start of the fourth quarter, Karkera who was brought back into the post did an outstanding job to save and kept skipper Razie Rahim from scoring. 
It was Ramandeep Singh who did well as a feeder when he brilliantly assisted Sumit Kumar who scored India's third goal in the 48th minute. 
India scored two more goals through Ramandeep and Gurjant Singh who scored in a similar fashion off a penalty corner followed that sealed the match for India.
India will take on Ireland in their last round-robin match on Thursday.
(With IANS inputs)