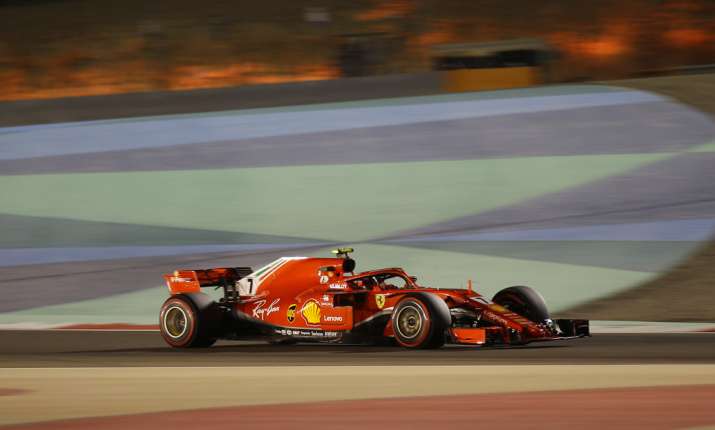 Kimi Raikkonen topped the leaderboard ahead of Ferrari teammate Sebastian Vettel in the second practice session for the Bahrain Grand Prix on Friday. Raikkonen and Vettel were up front as cooler temperatures and nightfall matched the conditions for Sunday evening's race. Raikkonen's time of 1 minute, 29.8 seconds on the 5.4-kilometer (3.3-mile) desert circuit was a fraction quicker than Vettel's.
Lewis Hamilton, who had a patchy first practice session, again looked a bit short of speed as he finished fourth, just behind Mercedes teammate Valtteri Bottas.
In a boost for Ferrari, both Mercedes cars were more than half a second slower than the best lap set by Raikkonen, who was investigated by race stewards for an unsafe car release following a pitstop. He escaped a grid penalty for Sunday and Ferrari was instead fined 5,000 euros ($6,100).
Max Verstappen, who failed to register a time in the first session, was fifth, ahead of Red Bull teammate Daniel Ricciardo — the fastest driver in the first practice.
The Australian was 0.3 seconds quicker than Bottas and 0.4 seconds faster than Raikkonen. Vettel was fourth and Hamilton fifth. The defending F1 champion had a tricky first session, locking his tires and twice taking his Mercedes too wide on corners.
Verstappen's car lost power and stopped on the track in the first session. He got out and helped stewards wheel it back to the team garage. The Dutch driver spun early into the season-opening Australian GP two weeks ago, finishing in sixth place.
Verstappen complained about a lack of speed in his Red Bull on Friday.
"Why am I so slow on the straights? It's unbelievable," he said on his team radio.
There will be a third and final practice session on Saturday before qualifying, when Hamilton will be trying to earn a record-extending 74th pole position. Vettel won in Melbourne, profiting from an error by Mercedes to finish ahead of Hamilton, who was leading from pole.