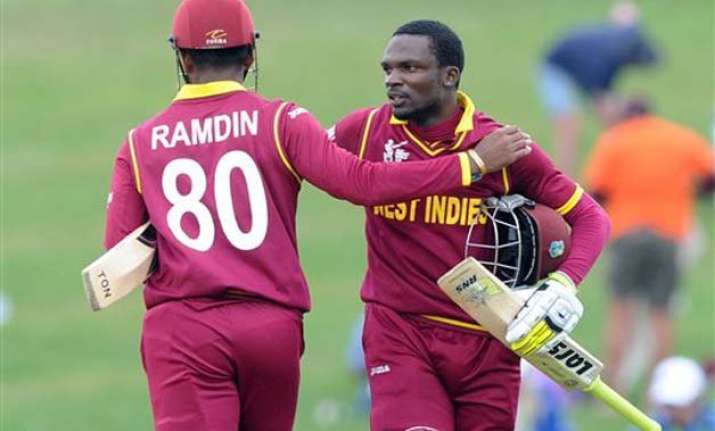 Napier, New Zealand: The West Indies beat the elements in a six-wicket win over the United Arab Emirates on Sunday to stake their claim for a place in the Cricket World Cup quarterfinals.
Needing to win emphatically to press for a top-four place in Pool B, and with a tropical cyclone looming, the West Indies let slip a strong beginning by allowing the UAE to escape from 26-5 to reach 175. That complicated the task of boosting their run rate but they redeemed themselves with the bat, reaching their victory target in 30.3 overs.
That ensured Tropical Cyclone Pam, bearing down on New Zealand after causing devastation in the Pacific, didn't decide their World Cup fate. They could have missed the quarterfinals if wind and rain had washed out Sunday's match.
The West Indies avoided that possibility with some pre-mediated heavy-hitting at the start of the run-chase. Johnson Charles led the charge as the West Indies hurried to 33-0 after three overs and 109-3 at the 15th over, shortly before Charles' dismissal for 55.
Charles was included in the starting lineup for his first game at this World Cup as a replacement for master batsman Chris Gayle, who was ruled out with a back injury.
He hit nine boundaries and two sixes in his third half century in one-day internationals.
Jonathan Carter then made an unbeaten 50 — his maiden ODI half century — and Denesh Ramdin 33 not out to complete the job. But the West Indies' qualification for the quarterfinals still depended on the outcome of the last match in pool play between Pakistan and Ireland, which concluded in Adelaide later on Sunday.
While it made its run rate superior to both Ireland and Pakistan and drew level with those teams on six points, it still faced the faint possibility of exclusion from the knockout rounds if Ireland beat Pakistan.
"Obviously it was a must-win game for us and we needed to win by a big margin," West Indies captain Jason Holder said. "Credit to the guys, they played well and hopefully we can go forward into the quarterfinals.
"We had the right intent. We were determined to finish the game before 36 overs which was key for our run-rate and did what was necessary to play an attacking game."
Holder did everything he could to further his team's cause, winning the toss and sending UAE in, then taking 4-24.
The West Indies were well on track then to win the game swiftly but Nasir Aziz and Amjad Javed made maiden half centuries in a record 107-run partnership for the UAE's seventh wicket.
The West Indies were full of energy after winning the toss and as Holder and Jerome Taylor crashed through the UAE's to order in the first 10 overs. But their urgency seemed to drain away as the UAE's resistance took hold.
The bowlers lost their edge and stopped bowling to their fields while the fielding became sloppy. There appeared to be discord among the players and Holder appeared to have to work harder to exert his authority.
After being 46-6 in the 13th over, Javed and Aziz allowed the UAE to bat deep into their overs.
Aziz reached his first ODI half century from 70 balls with six fours. He was playing in his third one-day international but had never previously batted.
Javed reached a maiden half century in his eighth ODI from 91 balls with six fours and a six.
The pair raised their 100 partnership — and the highest partnership for the UAE against a test-playing nation, from 150 balls.
The partnership was worth 107 when Javed was bowled by Andre Russell for 56 in the 41st over with the total 153-7. Aziz continued and was out for 60 at 167-9, shortly before the innings ended.