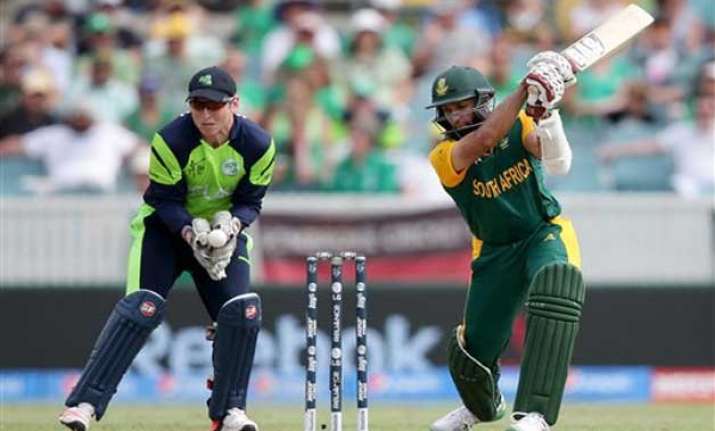 Canberra: Scoreboard of South Africa vs Ireland Group B, 24th Match of the ICC World Cup 2015 played at Manuka Oval here Tuesday.
AB de Villiers, South Africa's skipper, while praising the efforts of the team said now they can win the World Cup title.  South Africa today defeated a very trick Irish side by a huge margin of 201 runs and has become the first team in One day International (ODI) history to score more than 400 runs in an ODI match.
Talking with the media persons after the match, South Africa's skipper AB de Villiers said "we found ourselves in a great position going into the last 15 overs which gave us a lot of freedom to express ourselves. We ticked a lot of boxes today.
South Africa innings: 411/4 in 50 overs
| | | |
| --- | --- | --- |
|  Hashim Amla |  c Joyce b McBrine |  159 |
|  Quinton de Kock |  c Wilson b Mooney |  1 |
|  Faf du Plessis |  b Kevin O'Brien |  109 |
|  AB de Villiers |  c Niall O'Brien b Mc Brine |  24 |
|  David Miller |  not out |  46* |
|  Rilee Rossouw |  not out |  61* |
|  Extras |  (b 1, wd 7, nb 3) |  11 |
|  Total |  for 4 wickets |  411 |
|  Overs |  innings break |  50 |
|  Fall of wickets                         |  1-12 (de Kock, 2.3 ov), 2-259 (du Plessis, 38.4 ov), 3-299 (Amla, 41.1 ov), 4-301 (de Villiers, 41.3 ov) |                   |
Did not bat: Farhaan Behardien, Dale Steyn, Kyle Abbott, Morne Morkel, Imran Tahir
Bowling
| | | | | |
| --- | --- | --- | --- | --- |
|  Bowler |  Overs |  Maidens |  Runs |  Wickets |
|  John Mooney |  7 |  2 |  52 |  1 |
|  Max Sorensen |  6 |  0 |  76 |  0 |
|  Kevin O'Brien |  7 |  0 |  95 |  1 |
|  George Dockrell |  10 |  0 |  56 |  0 |
|  Paul Stirling |  10 |  0 |  68 |  0 |
|  Andy McBrine |  10 |  0 |  63 |  2 |
Ireland batting: 210 all out in 45 overs
| | | |
| --- | --- | --- |
| William Porterfield           | c du Plessis b Abbott | 12 |
| P Stirling              | c de Kock b Steyn | 9 |
| E Joyce     | c Amla b Steyn | 0 |
| N OBrien             | c Amla b Abbott | 14 |
| A Balbirnie            | c Rossouw b Morkel | 58   |
| G Wilson            |  lbw b Abbott | 0 |
| K  OBrien              | c Rossouw b Abbott | 48 |
| J Mooney             |  b de Villiers | 8 |
| G Dockrell               | b Morkel | 25 |
| M Sorensen         |  c de Kock b Morkel | 22 |
| A McBrine           | not out | 2   |
|  Extras             |  (lb 3, w 9) | 12 |
|  Total              | all out | 210 |
| Overs |   | 45 |
| Fall of wickets     |  1-17 (Stirling, 2.5 ov), 2-21 (Porterfield, 3.6 ov), 3-21 (Joyce, 4.3 ov), 4-42 (NJ O'Brien, 8.4 ov), 5-48 (Wilson, 10.2 ov), 6-129 (Balbirnie, 25.5 ov), 7-150 (Mooney, 30.2 ov), 8-167 (KJ O'Brien, 35.1 ov), 9-200 (Sorensen, 42.6 ov), 10-210 (Dockrell, 44.6 ov) |   |
Bowling: South Africa
| | | | | |
| --- | --- | --- | --- | --- |
|  Bowler                   | Overs | Maidens | Runs | Wickets |
| Dale Steyn |  8 | 0 | 39 | 2 |
| K  Abbott     | 8               | 0 | 21 | 4 |
| Morne Morkel | 9 | 0 | 34 | 3 |
| Imran Tahir                              | 10 | 1 | 50 | 0   |
|  F Behardien | 2 | 0 | 13 | 0 |
| RR Rossouw | 2 | 0 | 13 | 0 |
| F du Plessis | 4 | 0 | 30 | 0 |
| AB de Villiers | 2 | 0 | 7 | 1 |