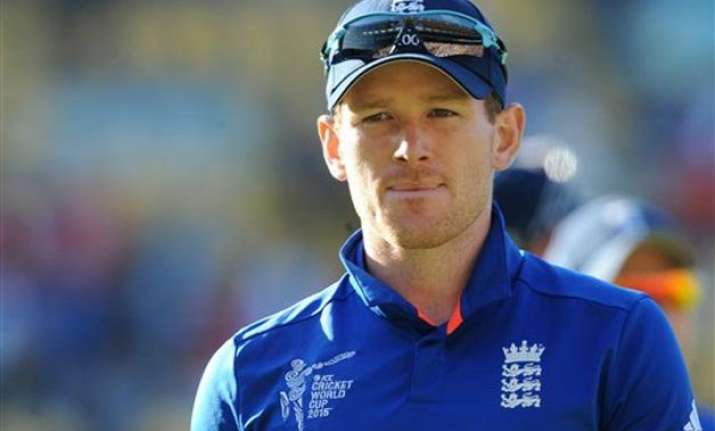 Wellington, New Zealand: England captain Eoin Morgan says there won't be any panic and probably no recriminations in his squad after its humiliating eight-wicket loss to New Zealand at the Cricket World Cup on Friday.
England has had heavy defeats in its opening games against the tournament co-hosts — after its 111-run loss to Australia in its opening game — and has only two days to prepare for its next match against a Scotland team that narrowly lost to New Zealand earlier this week.
Morgan said he didn't expect major selection changes as a consequence of Friday's loss, but admitted England will have to act quickly to repair its many faults before its World Cup campaign runs entirely off the rails.
"We have to turn things around quickly. We don't want to go into the state of panic where we make three or four changes to the team in the one game," he said. "I've always believed in making good decisions and backing the right players at the right time and I believe we have a squad of players all of whom can play — but I believe the 11 who played today were the best to win today's game."
England had one of its most expensive and thorough preparations for any tournament heading into the World Cup — five months in which it exclusively played limited-overs cricket — and Morgan struggled to explain why it remained so far from the standard of other leading teams.
"These first two games we said were going to be difficult games, playing against the two favorites in their home conditions," he said. "But we shouldn't be beaten by this margin, there's no way. Today we were out-skilled and certainly in the first game against Australia we were way below par."
Morgan said the English squad needed to go back to focusing on the basics to get its World Cup campaign on track.
"We did foresee the possibility of having lost the first two games but not by this amount," he said. "We can still make the quarterfinals but the sooner the better we start winning and gaining momentum."
England seems low on confidence and some of that may leach from Morgan's lack of form. The English squad seemed to be intimidated by Australia and had no answer on Friday to New Zealand's display of world-class swing bowling.
"It's a very quiet dressing room tonight as naturally it would be because we're very disappointed. So over the next few days we have to look at ourselves individually to see what we can improve before we go out against Scotland," he said. "Collectively we're going to have to get tighter as a group and produce the collective performances that we've been searching for."