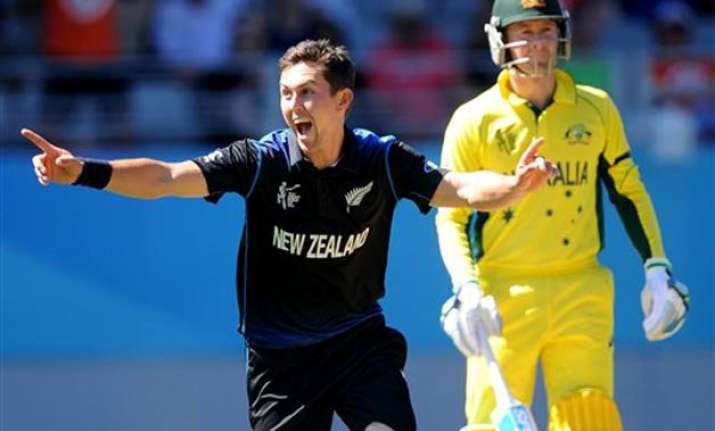 Auckland, New Zealand: Trent Boult took five wickets as New Zealand claimed Australia's last nine wickets for 71 runs to dismiss the World Cup favorite for 151 in Saturday's eagerly-awaited Pool A match at Eden Park.
Boult (5-27) bowled a devastating second spell in which he took five wickets for three runs in 16 balls as Australia crashed from 80-2 in the 13th over to be all out when Brad Haddin (43) was dismissed 19 overs later.
The left-armer shattered the stumps of three of his victims — Glenn Maxwell for one, and Mitchell Marsh and Mitchell Starc for ducks — and had returning Australia captain Michael Clarke (12) and Mitchell Johnson (1) caught by Kane Williamson on the off side.
During that second spell, which tipped the match in favor of New Zealand, which is unbeaten in three matches at the tournament, Boult conceded only two runs from the bat — the other was a wide. After bristling with aggression at the start of its innings, as David Warner set a strong pace with 34, Australia lost its way and had no answer to the accurate swing bowling of Boult.
A 45-run partnership for the last wicket between Haddin and Pat Cummings (7 not out) prolonged the innings after the Australians won the toss and elected to bowl, but they were still all out in 32.2 overs and New Zealand again found itself batting before the scheduled innings break.
Veteran spinner Daniel Vettori, who took 2-41 from 10 overs, was equally instrumental in Australia's decline, first arresting its aggressive start then claiming the wickets of Shane Watson (23) and Steve Smith (4) to provoke the batting collapse.
The 36-year-old Vettori was introduced in only the seventh over as New Zealand captain Brendon McCullum sought to apply the brakes to Australia's run-rate which had approached 10 runs per over through the first five overs.
Australia came out with the clear intention of trying to neutralize New Zealand's new ball pair of Tim Southee and Boult and to take a capacity crowd of 40,000 at Eden Park out of the equation. It worked for a while, with Southee's chaotic opening over going for 15 runs, including two wides and four byes.
Southee had claimed the first Australian wicket in his second over, comprehensively bowling Aaron Finch for 14 when Australia was 30. Warner and Watson put on a 50-run partnership from 63 balls before Vettori struck a critical blow by removing Watson during a spell in which he collaborated with Southee in three dismissals.
Southee changed ends and came back in a more demanding second spell in which he took 1-18 and also took a catch a deep mid-wicket to dismiss Watson at 80-2. He dismissed Warner with the first ball of the next over, making it 80-3.
After Smith and Marsh fell two balls apart Clarke, playing his first match since undergoing hamstring surgery nine weeks ago, mis-timed a slower ball from Boult and gave Williamson his first catch at short cover.
Johnson then fell in similar style to leave Australia 106-9 as eight wickets fell for 26 runs in eight overs.
The match closely mirrored New Zealand's win over England, when Southee took 7-33 to skittle the English for 123.