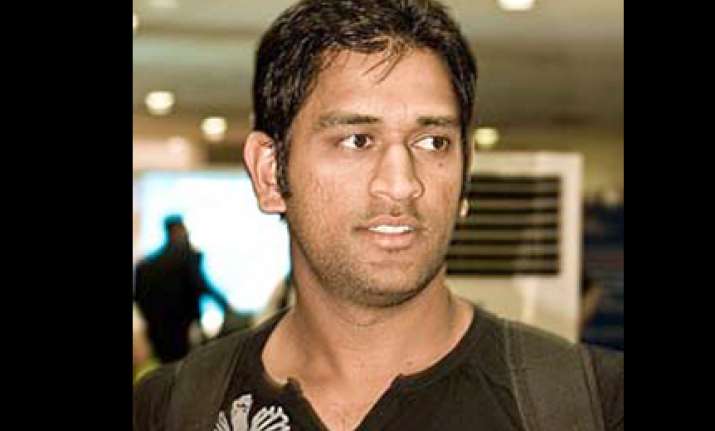 On the eve of the teams departure for South Africa for the Champions Trophy, Team India captain Mahendra Singh Dhoni on Thursday cautioned his teammates against taking any side lightly, saying all the eight participating nations are best in the world. 
Dhoni said his team is geared up for the September 22-October 5 tournament and the return of opener Gautam Gambhir will boost the sides batting line up. 
"Each and every team that will play in the Champions Trophy are the best in the world. So we are taking every team seriously," Dhoni said at a pre-departure press conference here. 
"We are thinking about things we are supposed to do rather than thinking about what others are doing. We are quite keen on going over there and giving our best. We are preparing for each and every team in the same way, it doesnt really make any difference whether it is Pakistan or Australia or Zimbabwe," he said. 
"In this kind of tournament you expect tough competition and we also have a tough group. So it is important for us to give our best from the start," he added. 
The India skipper also said the team will miss Virender Sehwag and Zaheer Khan badly in the elite ICC event. 
"Obviously, we will miss Virender Sehwag and Zaheer Khan. Viru is such a batsman who is very important for the team but you cant do anything about injuries. 
"It is good for us that Gautam Gambhir has regained his fitness because he will have to take the responsibility at the top of the order. We have seen that whenever we get a good start, we score big runs," Dhoni said. 
Both Sehwag and Zaheer are out of the Champions Trophy squad as they are recovering from shoulder surgeries. 
India had a great run up to the Champions Trophy, beating Sri Lanka in their own backyard to lift the Compaq Cup. However, Dhoni refused to accord much significance to the triumph and said they would have to start from a scratch again. 
The wicket-keeper batsman also revealed the magic behind Team Indias recent success in all forms of the game, saying he and his teammates never think about rankings when they take the field. 
"The reason why we are doing well is that we are not bothered about any level. We dont really want to set a standard that we cant reach. So, we take every game as just another game," Doni said.
"We dont think about rankings or ratings, personally as well as collectively as a team. We just try to enjoy our game. 
"We think about how prepared we are for the game, how well our mental condition is for the game. We are bothered about these small small things that help us in performing," he said. 
Dhoni also felt that consistency is something which India lacks and said both the bowling as well as the fielding departments need to raise their bar if they desired to be world beaters. 
"I think we have done well in patches, its not that we are consistently doing well and at the end of the day cricket is a team game. When the bowlers are not up to the mark the batsmen need to take the responsibility. 
"I feel we also need to do well in the bowling department, especially in the middle overs and in the slog overs. There is a lot of scope for improvement. We also need to raise our fielding standard, we have dropped down a bit," Dhoni said. 
The charismatic skipper welcomed veteran Rahul Dravids inclusion in the Champions Trophy-bound squad and said the former captains experience will come handy in pace-friendly South African conditions. 
"Its good to have players like Rahul in the squad, who played under the conditions and pressure.
Its good to have Rahul batting at number 3, specially in South Africa where conditions help the fast bowlers. He is the kind of batsman who you want to see at number 3," Dhoni added.