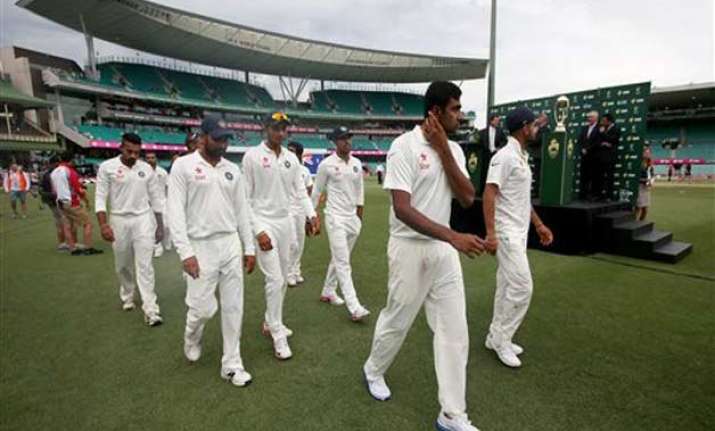 New Delhi: India hit a new low in Test cricket when they slipped to the number 7 spot in the latest ICC Rankings after the completion of the series against Australia.
India battled to save the 4th and final Test against Australia in Sydney on Saturday but lost the series 0-2. With this, they have placed a lowly 7th in the ICC Test Rankings.
Prior to this, India lost in England 3-1, New Zealand 1-0, and South Africa 1-0. In 2011-12 season, India lost in England and Australia, both 4-0.
The Virat Kohli led India have 95 rating points and are now placed only above West Indies, Bangladesh and Zimbabwe. In 2009, India under MS Dhoni's leadership had claimed the number one spot but the same team under the same captain began a string of losses in 2011.
South Africa are ranked number one and Australia are second followed by England. India's arch-rivals Pakistan are at fourth position.
India remain at the second spot in ICC ODI rankings behind Australia. Though both teams have exactly 117 rating points each, Australia is ahead when looking at the decimal points. However, India could go into the ICC World Cup 2015 as the top-ranked ODI side in the world if they manage to win the upcoming Triangular Series against Australia and England by a good margin.
ICC Test Rankings as on January 10, 2015.
    
1) South Africa (124 rating points)
    
2) Australia (118)
   
3) England (104)
    
4) Pakistan (103)
    
5) New Zealand (99)
    
6) Sri Lanka (96)
    
7) India (95)
    
8) West Indies (76)
    
9) Bangladesh (32)
    
10) Zimbabwe (18)