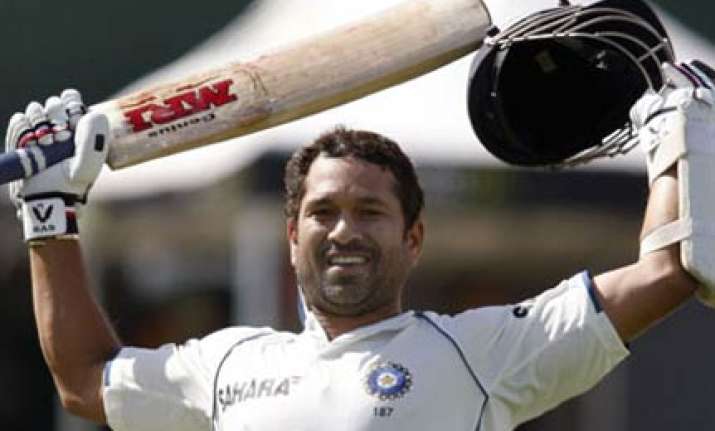 Sachin Tendulkar returned to Mumbai from the exhausting Bangalore Test and was entering his Bandra West apartment after a night out with wife Anjali, when he spoke to MidDay photographer Shadab Khan lying in wait for him.  
Things have changed over the last decade. At the same Garden City in 2000, Tendulkar had led India in his last Test as captain "a loss to Hansie Cronje's South Africans. On Wednesday,  he led the celebrations just to prove that there is justice in his celebrated game.
Excerpts from a brief chat:
It's been a great time for Indian sport. A series win over Australia apart, India needs just one more CWG gold medal to be on par with England. Can they do it?
Yes, as an Indian, I will be backing the Indian athletes at the Commonwealth Games all the way. It has been fabulous so far and yes, we can get more medals. I am sure they (athletes) all think the same way. My good wishes to them.
Is this your happiest moment after the '07 World Cup debacle?
It's definitely a happier situation than 2007 and even before that. It was not a great phase for Indian cricket.
But after Gary Kirsten took over as coach, it has been fabulous. He is a wonderful person and has not only managed to keep the team together, but also made them work harder. Not forcibly, but willingly. Players want to go out of their way to ensure preparation is perfect before every big game.
He has been throwing 1000 balls at us everyday so much so that we have to tell him, 'that's enough Gary.' He's been of great help.
Beating Australia was a mighty achievement, but you were extra emphatic when the winning runs were scored in Bangalore yesterday ....
Yes, I was emphatic in my reaction. Beating a top side like Australia is a remarkable achievement and it means a lot to all of us.
It was made possible by the entire team and not just a couple of individuals. It was a mega effort by everyone. In tough times, the batters managed to do something special and the bowlers too.
What message did World No 1 India send out to the cricketing world yesterday?
We sent out a strong message that we can come back from any situation and there are some tough characters in this team. We showed a lot of character. Like in the first innings at Mohali, we were without a main batsman and bowler " VVS Laxman and
Ishant Sharma
, who were injured. So, we literally played with nine men. Now, that's remarkable.