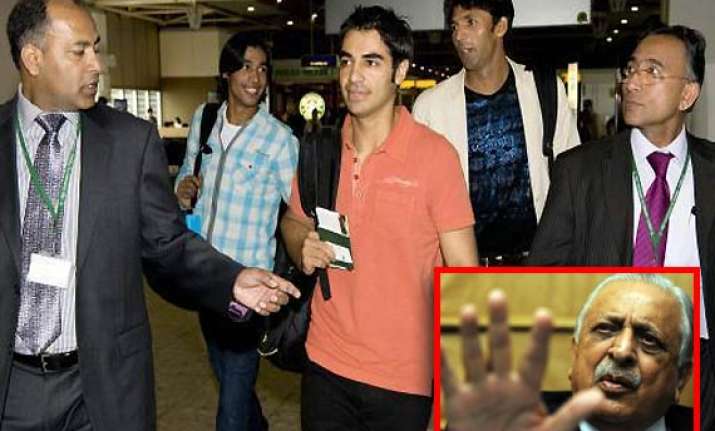 Lahore, Oct 13: Pakistan Cricket Board's outgoing Chairman Ijaz Butt says the spot-fixing scandal, which led to three of the country's top players being banned, was the biggest disappointment of his three-year tenure.

Butt said he considered crushing players' power and politics in the Pakistan team as the greatest achievements of his tenure that ended on October 8.

"Yes if you say regrets than the spot-fixing scandal that led to the ban on three of our top players was very disappointment and hurts even now. I would have also liked to see the resumption of bilateral cricket ties with India," Butt said in an interview.

The former Test player, whose term was full of controversies insisted that after the Mumbai terror attacks the cricket relations with India suffered a lot.

"But after that the situation was not in the hands of either our board or that of the Indian board. Things are dealt at the government level. But yes I was encouraged by the progress we made after the 2011 World Cup semifinal in Mohali and I am pretty confident bilateral ties will resume soon," Butt said.

He also dismissed the impression that during his tenure the PCB's relations with the ICC and other member boards were badly hit.

"I don't believe that is so. The ICC has been very supportive to Pakistan cricket in all these years specially after the attack on the Sri Lankan team in 2009. And till I was Chairman we had good relations with every board that is why England hosted our series last year," he noted. 

Butt admitted that the PCB was disappointed over the lack of support it got from Asian boards in the ICC when the decision to move the World Cup matches were taken in 2009.

"It was disappointing for us but later these boards made it clear they had to look at the security situation in Pakistan and protect the interests of their players," he added.

Butt claimed that when he took over as Chairman, the PCB was on the verge of bankruptcy as theer were just Rs 1.5 billion in its coffers and some cheques of big amounts had also bounced hurting the credibility of the board.

"But now I am proud and satisfied that the board has over Rs five billion rupees in its accounts even though we are not playing any home series since 2009. The financial position of the board is now very stable," he said.