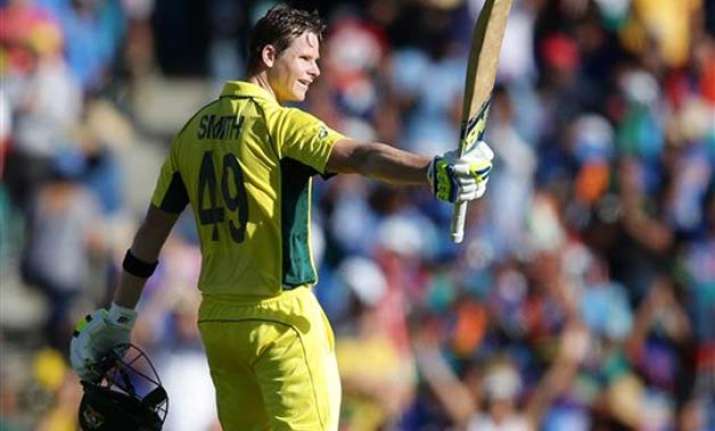 Sydney: Steve Smith strode the crease with Australia in a spot of bother in the World Cup semifinal, and went to work again against an Indian bowling attack that hasn't been able to contain him at all in the southern summer.
The 25-year-old right-hander stroked 105 from 93 balls, his fifth century against India since December, to set the foundation for Australia's total of 328-7. He threw down the stumps late in India's reply to complete a run out that helped Australia to a 95-run victory and a spot in Sunday's World Cup final against tournament co-host New Zealand at the Melbourne Cricket Ground.
"We ... did a terrific job tonight — bring on Melbourne," Smith said as he received the player of the match award. "It's nice to contribute to a few wins — it was a pretty big stage tonight, the semifinal of a World Cup, and I was just happy that we got over the line."
Australia won the toss and batted first against the 2011 champions at the Sydney Cricket Ground on Thursday, and slipped to 15-1 in the fourth over when David Warner (12) was dismissed. Warner and opening partner Aaron Finch had made a nervy start, with India paceman Mohammed Shami beating the edge of both of their bats in the first over.
But when Smith joined Finch, the momentum shifted. Smith posted centuries in all four matches of the test series against India, when he scored 769 runs at an average of 128. He followed up with 47 in the limited-overs win over India in Melbourne during the tri-series that also involved England, the main warmup for all three of those teams for the World Cup.
India arrived in Australia in November and didn't win a competitive match Down Under until it opened the World Cup with a win over archrival Pakistan on Feb. 15. Mahendra Singh Dhoni's team went on a roll from there, winning seven straight games — and bowling out the opposition every time — to qualify for the semifinal against four-time champion Australia.
With Smith in fine touch, that's where the streak ended.
"I am just really happy where everything is at. I'm just looking forward to Melbourne now ... it's going to be one hell of a day," he said.
Australia captain Michael Clarke was full of praise for Smith, who deputized for him as test captain for three matches.
"I can't speak highly enough of the way he's batting at the moment. He's shown his class," Clarke said. "That's what I'm really proud of Smithy with. He's still training extremely hard. He's still getting there early and doing the work even though he's batting so well. I can't say I'm surprised he's getting the results he's getting. He's earned it."
Smith had a mini slump at the start of the World Cup while batting in the middle order, out for 5 in Australia's opening win over England and dismissed for 4 in the one-wicket loss to New Zealand in the Pool A match in Auckland.
He was elevated to No. 3 after that defeat, and responded by scoring 95 in the record win over Afghanistan in Perth. He followed that up with 72 against 1996 champion Sri Lanka, the losing finalist at the last two World Cups, and 65 in the quarterfinal win over 1992 champion Pakistan.
Smith reached his fourth ODI century from 89 balls and was out soon after to Umesh Yadav in the 35th over, having stroked 11 boundaries and two sixes in a 182-run partnership with Finch (81) that guided Australia to 197-2.
"There's a long way to go in his career and a lot more runs for him to score," Clarke said, "but he's certainly leading the way at the moment."