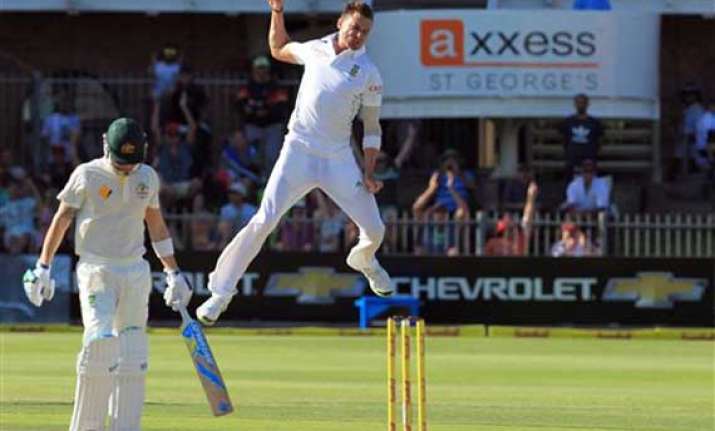 PORT ELIZABETH: Scoreboard Sunday after South Africa beat Australia by 231 runs on the fourth day of the second test at St. George's Park:
South Africa 1st Innings: 423
Australia 1st Innings: 246
South Africa 2nd Innings
(Overnight: 192-4)
Graeme Smith b Johnson 14
Dean Elgar
c Haddin b Siddle 16
Hashim Amla
not out 127
Faf du Plessis
c Haddin b Siddle 24
AB de Villiers c Haddin b Johnson 29
Quinton de Kock
c Clarke b Lyon 34
JP Duminy
not out 18
Extras: (2b, 6lb) 8
TOTAL: (for 5 wickets declared) 270
Overs: 64.
Fall of wickets: 1-20, 2-42, 3-112, 4-167, 5-231.
Did not bat: Vernon Philander, Wayne Parnell,
Dale Steyn
, Morne Morkel.
Bowling: Mitchell Johnson 15-1-51-2, Ryan Harris 13-1-74-0, Nathan Lyon 17-2-48-1, Peter Siddle 19-2-89-2.
Australia 2nd Innings
(To win: 448)
Chris Rogers run out (sub Petersen) 107
David Warner lbw b Duminy 66
Alex Doolan c Smith b Morkel 5
Shaun Marsh lbw b Philander 0
Michael Clarke c Du Plessis b Steyn 1
Steve Smith
lbw b Steyn 0
Brad Haddin b Steyn 1
Mitchell Johnson lbw b Philander 6
Ryan Harris lbw b Steyn 6
Peter Siddle not out 3
Nathan Lyon lbw b Elgar 0
Extras: (2b, 17lb, 2w) 21
TOTAL: (all out) 216
Overs: 73.4
Fall of wicket: 1-126, 2-152, 3-153, 4-156, 5-156, 6-166, 7-197, 8-205, 9-214.
Bowling: Dale Steyn 20-5-55-4 (2w), Vernon Philander 17-3-39-2, Morne Morkel 15-6-46-1, JP Duminy 14-3-33-1, Dean Elgar 7.4-0-24-1.
Toss: won by South Africa.
Result: South Africa won by 231 runs.
Series: Three-match series level at 1-1.
Umpires: Kumar Dharmasena, Sri Lanka, and Richard Illingworth, England.
TV Umpire: Aleem Dar, Pakistan. Match Referee: Roshan Mahanama, Sri Lanka.