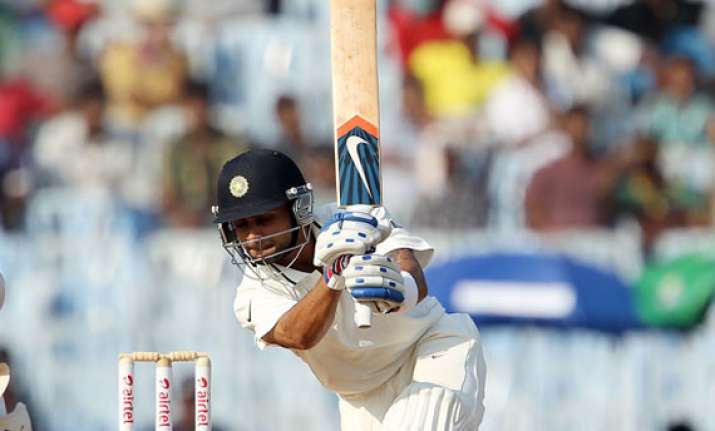 Chennai, Feb 24: Virat Kohli and Mahendra Singh Dhoni took India closer to Australia's first innings score of 380 after Sachin Tendulkar missed out on a hundred on the third day of their first cricket Test here Sunday.
India, resuming at 182 for three, added 81 runs in the morning session at the cost of Tendulkar (81), leaving a sizeable crowd at the M.A. Chidambaram Stadium here disappointed.
It was a closely fought session with Australian pacers keeping things tight in the first hour resulting in the wicket of the little master, and Kohli (83) and Dhoni (37) counter-attacking to set up a 67-run stand.
Tendulkar looked poised to get his 52nd Test hundred until off-spinner Nathan Lyon bowled him off a flighted ball that turned sharply. Tendulkar's fans had started queueing up outside the stadium since early morning in the hope of seeing the master reach three figures but now will have to wait at least till the second innings of the match. The soon to be 40-year-old last scored a hundred two years ago in January 2011.
Australia maintained the pressure but, post Tendulkar's dismissal, the Indians went on the offensive through Kohli and his skipper.
The Delhi batsman continued to look solid at the crease while Dhoni played his trademark strokes, especially off Lyon, to ease the pressure.  
Following is the scoreboard at lunch on day three of the first cricket Test match between India and Australia at the M.A. Chidambaram Stadium here Sunday:
Australia (First innings): 380
India (First innings)
Murali Vijay
b Pattinson 10
Virender Sehwag b Pattinson 2
Cheteshwar Pujara
b Pattinson 33
Sachin Tendulkar b Lyon 81
Virat Kohli batting 83
MS Dhoni
batting 37
Extras: (lb 3, w 3) 6
Total: (Four wickets in 79 overs) 263
Fall of wickets: 1-11 (Vijay, 3.2 overs), 2-12 (Sehwag, 5.2), 3-105 (Pujara, 28.4), 4-196 (Tendulkar, 63.1)
Bowling
Mitchell Starc 18-2-46-0
James Pattinson 14-3-41-3
Peter Siddle 14-4-38-0
Nathan Lyon 22-0-96-1
Moises Henriques 9-2-25-0
Michael Clarke 2-0-14-0
Match details:
Test debuts: Moises Henriques (Australia) and
Bhuvneshwar Kumar
(India)
Umpires: Kumar Dharmasena (Sri Lanka) and Marais Erasmus (South Africa)
TV umpire: Vineet Kulkarni (India)
Match referee: Chris Broad (England)
Reserve umpire: K. Srinath