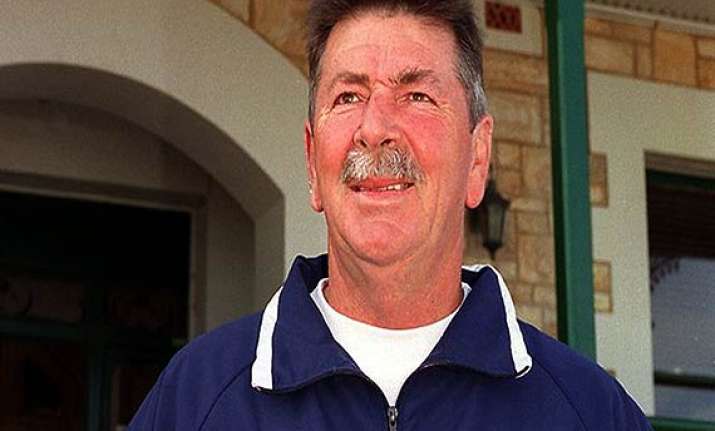 MELBOURNE, Australia :  Rod Marsh will replace John Inverarity as chairman of the national selection panel after an overhaul announced Friday, a day after Australia returned to the No. 1 ranking in test cricket for the first time since 2009.
Cricket Australia said Inverarity retired, opening the position for Marsh top take over from July 1. Mark Waugh was added to the four-person panel, with former selection chairman Trevor Hohns recalled and national head coach Darren Lehmann retaining his position.   
Marsh is one of the most respected wicketkeepers in cricket history. In a test career spanning 14 years from 1970, the Australian gloveman collected a then-record of 355 dismissals.   
He coached Australia's cricket academy from 1990-2001, helping launch the international careers of 27 players including Ricky Ponting, Adam Gilchrist, Shane Warne and Glenn McGrath, before taking a job as director of England's National Academy.   
Marsh, who was most recently working as a coach and in a part-time position as Australian selector, was given a three-year contract as selection panel chairman.   
"Rod Marsh is the right man to take on this important role having been a key member of the panel since 2011," Cricket Australia chief executive James Sutherland said. "His track record speaks for itself. He brings a wealth of experience to the position, having been a leading player, coach and most recently a selector. Throughout his days as a player he was the absolute embodiment of the Baggy Green cap and to this day is widely respected throughout the game.   
"He has a great eye for talent and has strong relationships throughout international cricket."   
Inverarity, who took over the selection panel when Australia was fourth in the test rankings, retired as chairman but was prepared to remain on the panel for 12 months if required.   
"He leaves his post with Australian teams in a position of strength holding the No. 1 ranking in test and One-Day International cricket," Sutherland said. "That reflects his commitment and the astute judgment he brought to the role at a challenging time for Australian cricket."   
Australia struggled at times during between 2009 and last year. The Australians were swept 4-0 in a test series in India, contributing to Mickey Arthur being fired as coach, and then lost the Ashes in England. But with Lehmann in charge, the improvement was swift. The Australians swept the return Ashes series 5-0 on home soil, then beat South Africa in a three-test away tour, with the back-to-back series wins helping them edge the Proteas for the No. 1 test ranking.
The next test series is against Pakistan in the United Arab Emirates, before a home series against India starting in November. Australia will co-host the 2015 World Cup with New Zealand starting in February.   
Sutherland said Mark Waugh, the twin brother of former Australia skipper Stephen Waugh and a stylish international batsman in his own right, would bring more limited-overs expertise to the selection panel.   
Hohns was a national selector from 1993 to 2006, including 10 years as chairman.   
"Trevor oversaw selection during an era when Australian teams dominated international cricket," Sutherland said. "We think he can provide great insight to the selection panel as we work to achieve long-term success."