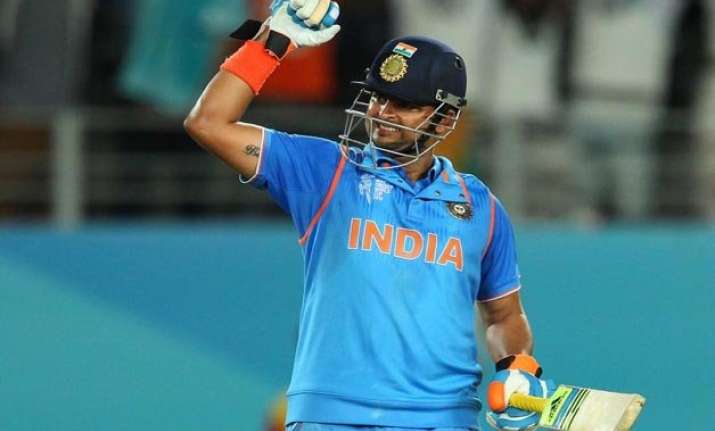 New Delhi: At a time when Indian batsman Suresh Raina is busy in hard practice session for the semi-final clash against Australia, thousand miles way back in India, people have sent some special wishes for him and Team India.
India's ace batsman Suresh Raina who is lovingly called as 'Sanu' is set to tie the knot with his childhood friend Priyanka Chaudhary. The marriage is scheduled to take place on April 3 in a five-star hotel in New Delhi after swashbuckling Indian cricketer returns from Australia where he is playing for the country in the ICC Cricket World Cup 2015.
From the city of Bagpat in Uttar Pradesh where his fiancée hails from, people are offering prayers for him to perform in the much awaited match. The women in the Panchayat have collectively decided that the whole village will watch the semi-final when India will take on the co-host Australia.
With about 9 days still left for the marriage, people in the village have already begun celebrating the occasion. Raina's sisters-in-law have even demanded for the World Cup trophy as 'Mu-Dikhai' - a gift which a bridegroom offers to sisters of the bride.
Suresh Raina is in sublime form in tournament with a match winning 110 runs knock against Zimbabwe followed by 65 against Bangladesh. He would like to continue speaking with his bat and fulfill the demands by his "would be" in-laws.
Rajkot upbeat about Ravindra Jadeja's good show against Oz
In Rajkot also, from where Ravindra Jadeja belongs, fans of Team India are leaving no stone unturned to contribute in boosting confidence of the squad.
Special arrangements have been made at Jadeja's restaurant in the city, 'Jaddu's Fast Field', to host cricket lovers tomorrow when India will face four time world champion.
A canny left-arm spinner and hard-hitting lower-order batsman, Jadeja, has potential to turn the game at any moment.
His sister, Naina Jadeja, said that her brother will continue his goof form and put up a good show in the semi-final match.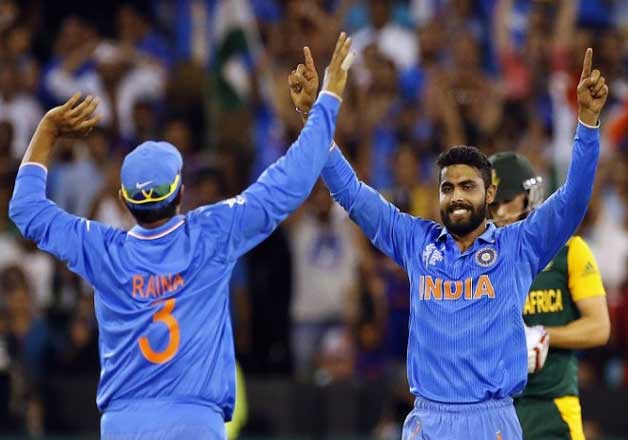 "Semi-final will be a tough game... Australia is a very strong team. I have heard that spin bowling is key to this game. The Sydney pitch is good for spinners... I wish him good luck and hope India will beat Australia," she said.