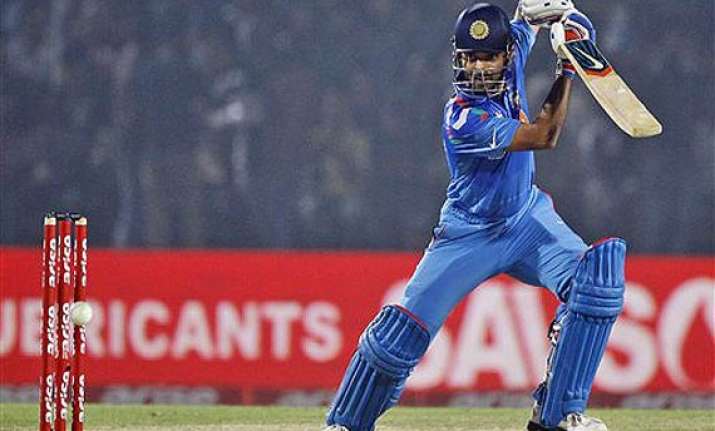 Mumbai:  Former India batsman Praveen Amre is helping talented Ajinkya Rahane master the art of "employing baseball technique while  batting" so that the Mumbai youngstercan generate more power in his strokes in the shortest format.
Rahane has had a successful stint with Rajasthan Royals so far, playing with a copybook technique under Rahul Dravid's mentorship but Amre's
'Out of the Box' thinking has led to him trying to rejig his game to meet the demands of T20 cricket.
Explaining the rationale behind using baseball hitting technique, he said,"Australians developed throwing techniques from baseball to minimise the injuries. You need to throw the ball at a good pace and in quick time, and the right technique of throwing is important. So I thought why not implement the
hitting technique of baseball. So I experimented and tried it myself."
"I was also following some videos of baseball. It is a game of bat and ball but only with a different type of bat (rounded), and the players could  generate a lot of force in their strokes," remarked the former Mumbai Ranji Trophy coach.
"T20 is a totally different format. I have trained him to generate power in his shots. It is crucial to perform with power in this format. In T20 power hitting matters. Instead of using just the arms and shoulders to strike the ball, I have told him to use his entire core to hit the ball," Amre said.
Rahane had earlier worked with Amre on facing short balls before leaving for the South Africa tour in December and missed out on his maiden Test ton  as he ran out of partnersstranded on 96 in the second and final game at Kingsmead, Durban.    
Amre further said he and Rahane worked on the mental aspect of the game as well, to prepare the 25-year-old fo ropening the innings or playing down the order.
"For the last 3-4 days, we have been working. We have also worked on the mindset. How he will approach the game if he is opening, or what will be  his mindset when he is batting lower down the order or when there is a six to be hit off the last ball. I won't recommend this (baseball) technique for
Tests and ODIs, but only for T20," he said.