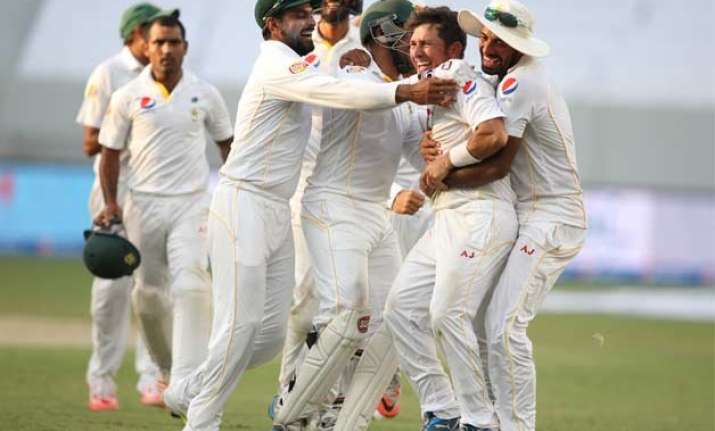 Dubai, United Arab Emirates (AP): Pakistan took a 1-0 lead in the three-match series against England after winning by 178 runs in the second test.
England was chasing a record target of 491 at Dubai International Stadium for an unlikely win but was bowled out for 312 with 6.3 overs to spare in the final session.
"On a final day of a test match in a place like Dubai with the ball turning so much, two of our really good spinners are bowling, I thought they showed great character," Pakistan captain Misbah-ul-Haq said of England.
"Overall, I thought our spinners bowled really well, especially under pressure in the final session."
England counterpart Alastair Cook said the third morning was the one that cost his team after losing seven wickets for 36 runs to finish 136 behind at the end of the first innings.
"Those two or three hours put us right on the back foot," Cook said. "But the character we showed today - I think it is the longest Pakistan has ever bowled in the fourth innings. It was a good day for us but it was disappointing we didn't quite get over the line."
England started the final day at 130-3 and was reduced to 193-7 when Ben Stokes was out in the 35th over of the day. That left Pakistan with what seemed like an easy task of taking the last three wickets with more than three hours remaining.
But Adil Rashid showed off his ability as a batsman after a forgettable match as a leg-spinner. His technique was immaculate on a pitch taking plenty of turn and he found able partners in Stuart Broad (30) and Mark Wood (29).
Rashid made his maiden test 50 in a career that is only two matches old. However, he will rue the expansive cover drive he attempted off Yasir Shah that was caught by Zulfiqar Babar.
He added 60 runs for the eighth wicket with Broad (30) and then 55 for the ninth wicket with Wood (29), which defied Pakistan for 29.2 overs.
Spinners Babar (3-53) and Shah (4-87) did most of the damage for Pakistan.
When England resumed the day their hopes rested mainly on overnight batsman Joe Root.
Root defended for almost an hour against fast bowler Wahab Riaz before becoming the first to go, caught in the slips by Younis Khan off Babar for 71 as England moved to 157.
Jonny Bairstow soon followed, clean bowled by Shah for 22, and England was quickly six down for 178 when the out-of-form Jos Buttler nibbled at Shah's leg-spinner and edged it to Younis again in the slips.
Stokes did not last long after lunch and chased a wide delivery from Imran Khan into the hands of Misbah for 13 with the score on 193.
The first match in Abu Dhabi was drawn while the final test will be played in Sharjah starting Saturday.