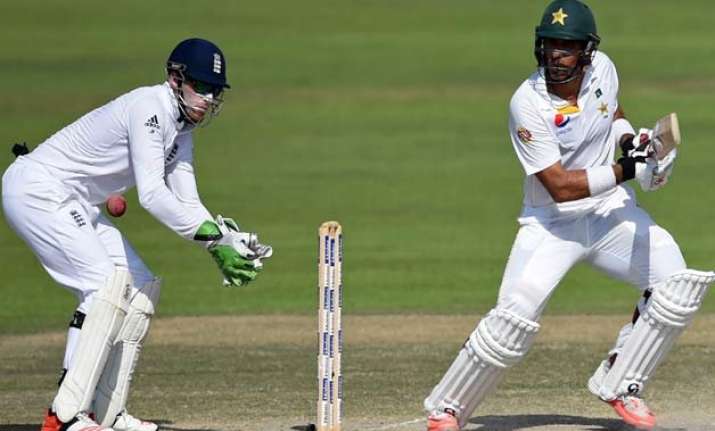 Abu Dhabi United Arab Emirates (AP):  Bad light ended England's dramatic run chase on Saturday as the first test against Pakistan came to life on the fifth day before ending in a draw.
England needed 99 in a possible 19 overs to win at Zayed Stadium after a brilliant spell by leg-spinner Adil Rashid, who picked up 5-64 as Pakistan was bowled out for 173 in its second innings.
When the umpires called stumps, England was 74-4 in 11 overs, needing only 25 more runs to win. Joe Root was unbeaten on 33 and Ian Bell on five.
England captain Alastair Cook expressed his annoyance at having to end the match early.
"It is frustrating," said Cook. "The only query I have is in the letter of the law: is it unsafe to play? That's what I am always told at match referee meetings: is it unsafe to play?"
Pakistan captain Misbah-ul Haq started with spinners Zulfiqar Babar and Shoaib Malik, who claimed two wickets each, and it was never going to be an easy chase for England.
Almost every fielder was placed on the boundary and Pakistan took its time between balls and overs.
"I am just proud the guys have hung in there for five days really," Cook said. "You can see 520 in front of you at the start and right at the end of the game, you are the only side that could win with 20 odd runs to score and six wickets left. And then the light fades."
England had earlier declared its first innings at 598-9 for a 75-run lead, thanks largely to Cook's 263.
After four days of insipid cricket dominated by the batsmen, the bowlers finally came to the party on the final day as 15 wickets fell, compared to 16 wickets over the first four days.
An early double strike by fast bowler James Anderson, followed by a superb piece of fielding by Ben Stokes to run out Mohammad Hafeez, set the tone of England's performance as Pakistan was reduced to 47-3.
Masood played on to Anderson again, but unlike the first day when a slower bouncer hit him on the helmet before rolling onto the stumps, it was off the toe of his bat this time as he tried to defend.
Four balls later a bouncer from Anderson reared up at Malik and all he could do was fend it off to Jonny Bairstow at short-leg.
Hafeez was third to depart, a victim of Stokes' brilliance in the field. The batsman pushed Rashid's delivery to point and there was hesitation as they set off for a run. Stokes swooped on the ball, picked it up with his left hand, transferred it to his right and hit the wicket at the non-striker's end in one action.
However, veteran players Younis Khan and Misbah put together 66 runs for the fourth wicket, which seemed to put Pakistan on the path to safety.
Misbah was lucky to survive on 19, with the score on 87-3. Reviewed for a bat-pad catch by Stokes off Anderson at gully, the TV umpire found there was no bat involved.
However, if the appeal had been for an lbw, the Pakistan captain would have been given out.
Younis finally lost patience in the 42nd over, when he tried to hoist an away-spinning delivery from Rashid to Stokes at cover. It was the leg-spinner's first wicket in test cricket after recording first innings figures of 0-163, the worst bowling performance by a test newcomer.
Rashid started bowling with more confidence and soon got his second wicket when first-inning centurion Asad Shafiq edged to wicketkeeper Jos Buttler for six with the score on 139.
But the big blow was delivered by Misbah's wicket, the sixth man to go with the score on 159 when he chose what he later called "a wrong option." The captain had a rush of blood, stepped out against Moeen Ali and missed the line completely to be bowled for 51.
"I think in test cricket, pressure lets everything happen," Misbah said. "Obviously we committed mistakes   a run out and two bad shots put us in a tough situation."
Riaz (1) and Zulfiqar (1) followed Misbah in quick succession.
Earlier, Cook called in his last pair after 45 minutes of batting, with Stuart Broad not out on 17 and Anderson on three. Only one England wicket fell in the morning, Rashid clean bowled by Imran Khan's in-cutter for 12 with the score on 590.
Pakistan has now played eight test matches at the Zayed Stadium in Abu Dhabi, winning four and drawing four.
The second test in the three-match series starts at Dubai International Stadium on Oct. 22.