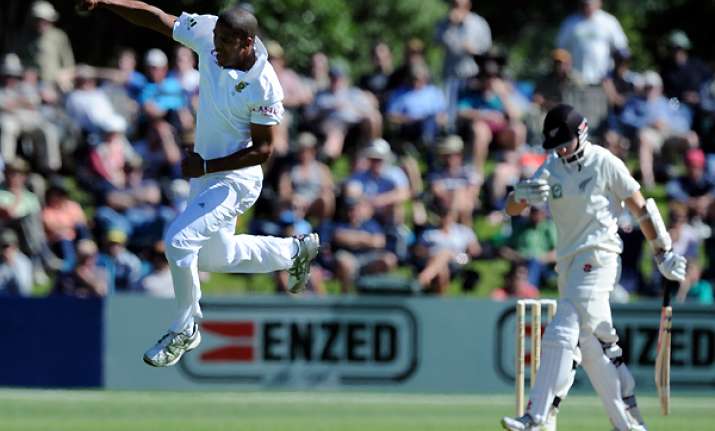 Dunedin, Mar 8: New Zealand managed by small degrees to take a five-run lead over South Africa with one wicket standing on the second day of the first cricket test on Thursday.

Though 19 wickets had fallen in five sessions, the match defied the strenuous efforts of both sides to gain control.

South Africa was dismissed for 238 after resuming at 191-7 in an innings helped by half centuries to Hashim Amla (62), Graeme Smith (53) and Jacques Rudolph (52). No New Zealand batsman managed to reach 50 but contributions of 48 from Brendon McCullum, 46 from Daniel Vettori, 44 from Ross Taylor and 36 from Kruger van Vyk allowed the hosts to edge to 243-9.

New Zealand's last-wicket pair of Trent Boult (8) and Chris Martin (0) survived to stumps, but offer the hosts little hope of building a substantial lead.

For South Africa, Vernon Philander's remarkable test career continued as he took 4-50 to increase his tally to 34 wickets in only his fifth test.

After a frigid first day, trimmed by rain to 58 overs, Thursday's conditions were benign but, despite sunshine and a docile pitch, neither side managed to flourish.

There have been only two passages of play in the match when one side has been truly dominant: the latter part of the first session on Wednesday when Smith made his half century and steered South Africa to 86-1; and its immediate sequel, when Martin dismissed Smith, Jacques Kallis and A.B. de Villiers within four deliveries to terminally damage the South African innings.

Otherwise, the match has developed into an absorbing contest of attrition in which the initiative has regularly passed from one side to the other.

Martin took 4-56 to prevent South Africa's batsmen from establishing themselves and building a formidable first innings. Philander performed the same function as South Africa's most effective strike bowler.

New Zealand then, in an innings built around gritty partnerships, managed to grab a first-innings lead with eight wickets down and in the second-to-last over of the day when Doug Bracewell (25) hit Dale Steyn for four. In an incident illustrative of the nature of the day, Steyn skittled Bracewell's middle stump two balls later.

The day ended in virtual stalemate and with three days and two innings remaining the teams start almost from scratch Friday. Warmer weather is likely to bake the already hard pitch at the University Oval, making it less supportive of fast bowlers and bringing rival spinners Vettori and Imran Tahir into contention on the last two days.

Leg-spinner Tahir provided a glimpse of his potential when he took 1-55 from 24 overs during New Zealand's innings. Mornel Morkel, the most successful South African bowler after Philander, took 2-52.

"It is parity," New Zealand's top-scorer McCulum said. "At times today I thought we played some pretty good cricket and I thought we could have pushed on for a bit bigger lead but that's the nature of this wicket. "The game is certainly evenly-poised at this stage."

South Africa added 47 runs for its last three wickets at the start of the second day, more than New Zealand was comfortable to allow. Rudolph progressed from 46 overnight to 52 but in keeping with the trend of the match couldn't go beyond that score. Philander made 22, Morkel 13 and Tahir 10.

New Zealand lost debuting opener Rob Nicol to Philander in the fourth over with the total at 7 but McCullum and Guptill steered it to lunch at 40-1.

Guptill (16) was bowled by Morkel in the over following the resumption and there followed one of the day's pivotal periods when McCullum and New Zealand's returning captain Ross Taylor put on 65 for the third wicket.

Taylor was playing his first innings in almost a month after recovering from a calf injury and he looked rusty. McCullum wasn't hitting the ball as sweetly as usual but the pair survived an hour-long examination from the South African pace battery to establish their partnership.

Both were peppered by short pitch balls but they were able to surmount that trial and to build the partnership which was the kernel of the innings. Again, in keeping with the trend of the match both fell just when they seemed to be established and about to go on to play a dominant role.

McCullum was caught and bowled by Tahir and Taylor was out for 44, flashing at a wide delivery from Morkel.

Vettori played a typically hardy rearguard role and made 46 in a partnership of 53 with South African-born van Vyk. After Vettori had batted for 107 minutes to support New Zealand's bid for a first innings lead, the diminutive van Vyk continued that good work.

He took New Zealand within nine runs of South Africa's total when he was caught by Smith at first slip off Philander. Tim Southee fell two balls later, leaving New Zealand eight wickets down and still needing 9 runs to match South Africa.

Bracewell and later Boult carried them over the line. But the match remains one so far dominated by bowlers.

"Heading into the test match, we knew that both bowling lineups were potent when they got it right," McCullum said. "Both sides are playing four seamers so it gives both sides the opportunity to continue to attack."