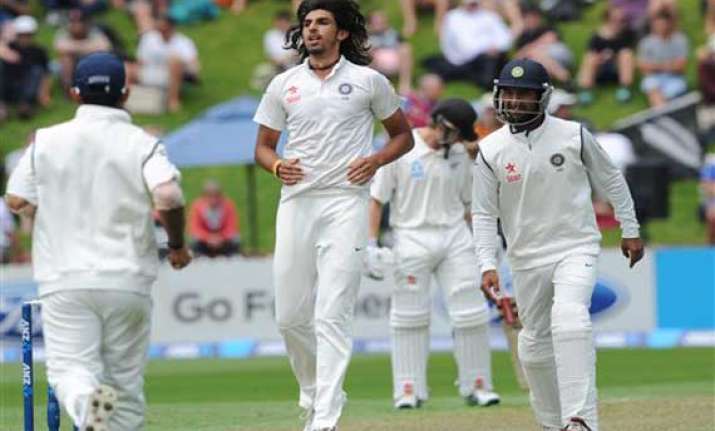 Wellington: Scoreboard at stumps Friday on the first day of the second cricket test between New Zealand and India at the Basin Reserve:
New Zealand 1st innings   
Peter Fulton lbw b I.Sharma 13   
Hamish Rutherford c Vijay b I.Sharma 12   
Kane Wiliamson c R. Sharma b Shami 47   
Tom Latham c Dhoni b I.Sharma 0   
Brendon McCullum c Jadeja b Shami 8   
Corey Anderson c Kohli b I. Sharma 24   
BJ Watling c R. Sharma b I. Sharma 0   
Jimmy Neesham c Dhoni b Shami 33   
Tim Southee c Vijay b I. Sharma 32   
Neil Wagner not out 5   
Trent Boult c Pujara b Shami 2   
Extras (2lb,8w,6nb) 16   
TOTAL (all out) 192   
Overs: 52.5. Batting time: 262 minutes.   
Fall of wickets: 1-23, 2-26, 3-26, 4-45, 5-84. 6-86, 7-133, 8-165, 9-184, 10-192.   
Bowling: Zaheer Khan 17-3-57-0 (1w,2nb), Mohammed Shami 16.5-4-70-4 (7w,1nb), Ishant Sharma 17-3-51-6, Ravindra Jadeja 2-1-12-0.
India 1st innings   
Shikhar Dhawan not out 71   
Murali Vijay c Watling b Southee 2   
Cheteshwar Pujara lbw b Boult 19   
Ishant Sharma not out 3   
Extras (4b,1w) 5   
TOTAL (for 2 wickets) 100   
Overs: 28. Batting time: 124 minutes.   
Fall of wickets: 1-2, 2-89.   
Yet to bat: Virat Kohli, Rohit Sharma, Ajinkya Rahane, MS Dhoni, Ravindra Jadeja, Zaheer Khan, Mohammed Shami.   
Bowling: Trent Boult 9-4-18-1, Tim Southee 7-0-20-1, Neil Wagner 7-0-36-0, Corey Anderson 3-0-14-0, Jimmy Neesham 2-0-8-0 (1w).   
Toss: India.   
Series: New Zealand leads the two-match series 1-0.