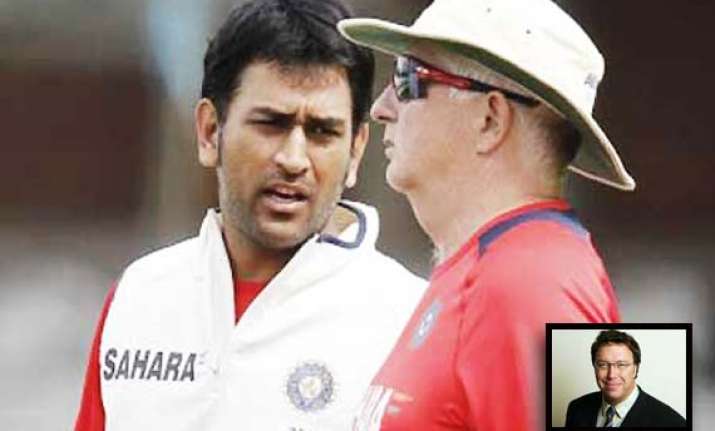 London: Derek Pringle, the cricket commentator writing for Daily Telegraph, London has  written : "It won't be easy for Dhoni's team whoever is picked to represent it for the final Test.
"The national mood has turned ugly and India's players are used to being pampered and praised not rounded upon.
" There is certainly a perception here that the Indian Premier League has turned them into spoiled brats who have fallen out of love for the flag, and it will need something special or many to be disabused of that.  
"But as one prominent commentator here said (off air), when
Rohit Sharma
, to pick but one promising batsman yet to play a Test for India, can earn over U$7 million from
IPL
, why does he need to work hard to play Test cricket?"
Pringle mentions how at the Eden on Sunday he saw chief selector Sandip Patil seen in long conversations with coach Duncan Fletcher and captain
MS Dhoni
, "even wagging his finger at India's coach."
Writes Pringle:  "Under that captain and coach combination the team has lost 10 of its last 16 Tests, so change seems inevitable if not the top to bottom clearout suggested by today's Times of India, who'd sacked all but four of the current team including Dhoni and Sachin Tendulkar.   
"...Cook's side cannot lose the series, but while that gives them some handy insurance, as they head to Nagpur for the final match, it will not satisfy a team that has dominated pretty much every phase since being beaten soundly in Ahmedabad. Victory is what they want, something that has not happened to an England team here for 28 years.  
"As the mental wellbeing of the two teams stand, it is impossible to see how England could lose the next Test on a decent batting pitch, which Nagpur is said to be. But India are desperate not to lose face and a Test series at home so expect a short, sharp match in Nagpur where the groundstaff are probably taking pickaxes to the track right now.
"....India's cricket has always been based on skill over fitness which is fine if you keep delivering match-winning performances. But after a good first Test, when he out-finessed England's bowlers with reverse-swing, Zaheer Khan has looked pedestrian and low on stamina. Today, he paid the price with his place, which has been taken by Parbinder Awana. "