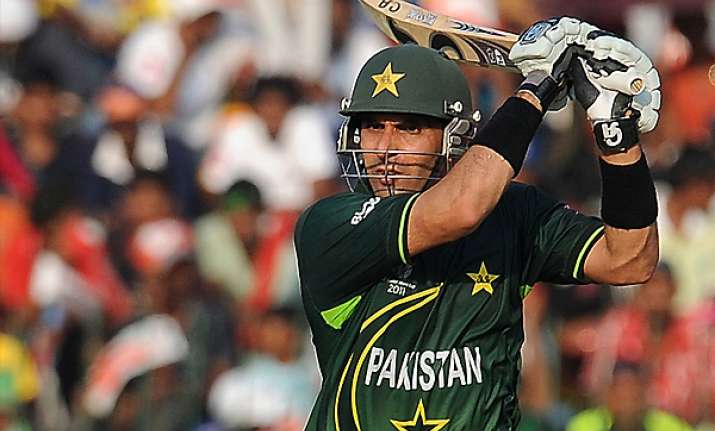 Lahore, Nov 4: Pakistan's Test and one-day captain, Misbah-ul-Haq has backed the Pakistan Cricket Board (PCB)'s decision to appoint a batting coach with the national team.
Misbah, 38, said the appointment of a professional batting coach would help improve performance of the team.
The PCB has invited interested candidates to apply for the batting coach position and has set a deadline of November 5 to receive applications.
The PCB's move has already generated plenty of debate and interest as while former Australian test batsman, Dean Jones has said he would be willing to work on part-time basis with the Pakistan team, former test captains, Zaheer Abbas and Salim Malik have also said they would like to work as the batting coach of the national team.
Misbah said in modern day cricket every team has a full support staff with them and they helped players overcome their technical problems and flaws.
"Every team has a strong support staff which is very useful for the players and if the PCB has now decided to have a batting coach it is a good move and the need of the hour," the experienced batsman, who scored a century in the latest round of the Presidents Trophy first class tournament told "Express" daily newspaper.
"Another aspect is that by distributing responsibilities the coaches with the national team would also be able to focus totally on their area of expertise," he added.
While Malik has already applied for the position and sent in his CV to the coaching committee, Zaheer who is a member of the committee said he would be willing to step down as a member if the board was interested in hiring his services.
Sources in the board said that so far the committee which is headed by former test captain, Intikhab Alam had received very good response for the batting coach position from within and outside the country.
PCB chief, Zaka Ashraf has said that he wants a totally professional and qualified support staff set up with the national team as this is the need of the hour to gain improvement in performances.
During the recent World T20 cup, Ashraf had also sent former test captain and a senior official in the board, Javed Miandad to Sri Lanka for a few days to help the players with their batting skills.