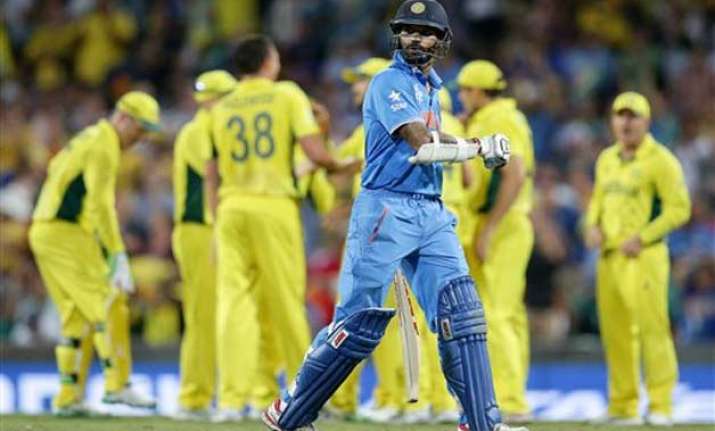 Sydney: After Steven Smith's century, the bowlers put up a thoroughly professional performance to take Australia to their seventh final in World Cups. First time since 1987 World Cup no Asian teams in the World Cup final.This had occurred in 1975, 1979, 1987 and now.
Starc to Yadav, OUT, full and straight and Umesh is bowled, Australia win by 95 runs and go through to the World Cup final.
So the two Tasmanian neighbours will fight it out for the cricket's most coveted prize.Starc has hit Umesh on the helmet. In fact, it missed the grille and hit him on the chin.
Faulkner to M Sharma, OUT, another, Faulkner hits the stumps again
Faulkner to Ashwin, OUT, bowled him,
India 232/5 after 45 overs
Ravichandran Ashwin    5 (9)     Mohammed Shami    0 (0)
Mohammed Shami, comes to the crease
Starc to Dhoni, OUT, gone, Dhoni is run out by a direct hit from Maxwell
Watson to Dhoni, SIX, finally, Dhoni plays a big shot! MS Dhoni has become the first Indian to reach 1000 runs as captain in international matches in Australia.Steven Smith can't do anything wrong today. Scoring runs for, takes stunning catches, makes impossible reviews and hits stumps
Clarke  drops Dhoni, India need 133 from 60 balls. Required run rate now over 15 runs per over. A direct hit Jadeja OUT Jadeja was always going for the run and he was caught short by a brilliant direct-hit.
India 196/5 after 40 overs
Ravindra Jadeja    9 (11) Dhoni    42 (49)
Australia has now put thier one foot in the final of 2015 Cricket World Cup. Dhoni now along with Jadeja are trying to pull Team India out of this mess.Required run rate more than 12 now. Tough ask for Team India.
Actually it was Smith who was standing at backward point that prompted Clarke to go for the review. After the decision was made, he seemed to be the most delighted of the lot.
R Jadeja comes out in the middle
Starc to Rahane, out Caught by Haddin
Rahane OUT
Dhoni fighting a lone battle for Team India. Rahane needs to press on from here as the required run rate is heading towards 12 runs per over
India 170/4 after 35 overs
MS Dhoni 29 (33) Ajinkya Rahane    43 (65)
Watson to bowl after drinks break, Rahane starts on positive note with a boundary. Rahane playing a positive shots. In the air for a while falls short of Hazlewood.
Drinks Break The only hope for Team India remains with this pair. Can MS Dhoni pull off another miraculous victory ?
Johnson to Rahane, FOUR, edged and four! It is Rahane's first boundary
Dhoni, FOUR, a very good over for India, but they need to keep going. It was short and outside off, Dhoni backs away and goes for the cut, the outside edge flies over  slip, third man had no chance as it went fine
India 138/4 after 30 overs
The key for MS Dhoni will be when to take the batting  powerplay.Josh Hazlewood  is back into the attack. Dhoni and Rahane now consolidating the Indian innings and provide some stability to Indian batting. Hazlewood bowling  a tight line.
India 115/4 after 25 overs
Ajinkya Rahane 17 (34), MS Dhoni 2 (4)
With four down India have almost lost the semi-final. The two hosts are now seen fighting for the trophy at MCG on Sunday. Dhoni and Rahane is the last recognized batting pair India has now. They need to set up a long and steady partnership to have any chances and can't afford to lose a wicket more before the 40th over.
MS Dhoni walks in at no. 6
India 108/4
Suresh Raina c Haddin b Faulkner 7 (11)
OUT! Outside edge and gone! Shortish outside off by Faulkner...Raina gets a thin edge to the keeper.
India 95/3 after 20 overs
Ajinkya Rahane 8 (17), Suresh Raina 0 (2)
Australia strikes back with two quick wickets of Kohli and Rohit. Though it was an unfortunate dismissal for Rohit but Kohli played a needless shot and thew his wicket away. Indians are struggling out there with the short pitch deliveries.
Suresh Raina is in at no. 5
India 91/3
Rohit Sharma b Johnson 34 (48)
OUT! Bowled him! After conceding a six to Rohit, Johnson made an excellent comeback and pitched the delivery outside off. Rohit was pushing at that, gets an inside edge and the ball goes back to rattle the top of middle.
Ajinkya Rahane comes to the crease at no. 4
India 78/2
Virat Kohli c Haddin b Johnson 1 (13)
OUT! Another wicket and this time Kohli threw his wicket away. Short ball by Johnson and Kohli went for the pull. He ends up getting the top edge and Haddin takes an easy catch. This is the first time that Johnson has dimissed Kohli in ODIs. Meanwhile umpires have also called for drinks.
India 77/1 after 15 overs
Rohit Sharma 24 (38), Virat Kohli 1 (12)
Josh Hazlewood provides Australia their first major breakthrough with the wicket of Dhawan. Indians were off to a blazing start with Dhawan and Rohit dealing in boundaries. However it was a needless shot by Dhawan who went inside out to an outside off delivery and hangs in to the fielder at deep covers.
Virat Kohli steps in at no. 3
Australia 76/1
Shikhar Dhawan c Maxwell b Hazlewood 45 (41)
OUT! This was full and well outside off, Dhawan came down the track and was looking to go over extra cover, he ends up slicing it towards sweeper cover. Maxwell present in the deep takes a simple catch. Dhawan is a goner but he has done his job.
India 55/0 after 10 overs
Rohit Sharma 19 (30), Shikhar Dhawan 32 (31)
After a shaky start, Rohit and Dhawan have managed to survive the first 10 overs. The pitch is still alive. Bowlers are getting good bounce also the good carry to the keeper. The crowd become ecstatic after Dhawan scored two back to back boundaries and a six off James Faulkner.
India 20/0 after 5 overs
Rohit Sharma 11 (18), Shikhar Dhawan 7 (12)
Both the batsmen are living dangerously. After Rohit's drop, Dhawan was dropped by Haddin behind the stumps. It was a thick outside edge straight to first slip but Haddin dived to his left and the ball just popped out of his gloves.
Great start by the Aussies. It was just the 4th ball of the innings which was pitched full and just outside off by Mitchell Starc. Rohit was looking to squeeze it away, jams his bat at that, the ball took the outside edge and went to the right of Watson at 1st slip. He went low to his right and took the ball, wasn't clear if the ball hit the ground.
Umpires went up after Australians claimed the catch. But the replays weren't clear and the benefit of doubt goes to Rohit.
Rohit takes the strike and Mitchell Starc to start off for Australia.
Rohit Sharma and Shikhar Dhawan are out in the middle.
The players are coming out and the chase is about to begin.
This is the biggest match of their Australian tour so far, they need to chase 329 to enter the 2015 World Cup final. No team apart from Australia have chased 300+ successfully.
==========================
It will be over to Dhawan and Rohit now, how they will bat. They need to setup another big opening stand and the first 10-15 overs are going to be crucial.
The pitch is still good for batting and the outfield is lightning quick. It comes down to whether India can handle the pressure of playing in a semi-final.
India need to bat sensibly and they need to make sure that they don't lose early wickets if they want to reach the final.
India pulled the batting side back to some extent. It was Faulkner, Watson and Johnson, who with some lethal strikes lifted Australia's sagging morale. For India, Umesh picked up four wickets. In fact, Umesh used the short ball smartly.
Earlier, India started on a good note with both Shami and Umesh bowling with a decent burst of pace and generating swing to keep the batsmen on their toes. Umesh was rewarded with the important wicket of David Warner. It was Smith, who took them out of troubled waters by unfurling a series of boundaries. He cracked Umesh for four fours in the 10th over.
India need 329 runs to win. They have done really well in the end to drag Australia back from the time they looked like getting anything upwards of 350-360 but still conceded 89 in the last 10.
Australia 328/7 after 50 overs
Brad Haddin 7 (7), Mitchell Johnson 27 (9)
This is the first time in 8 games that India haven't bowled out their opponents. It was strange to see Dhoni not give the ball to Umesh, who has picked four wickets. Little cameos from Watson and Johnson have led the Australia score to 328/7. Johnson smashed both Shami and Mohit for fours and a six to bring up his 27 off just 9 balls.
Mitchell Johnson comes in at no. 9
Australia 298/7
Shane Watson c Rahane b Mohit 28 (30)
OUT! The back of the hand slower ball from Mohit Sharma, Watson picks it, backs away, waits and slogs, but hits it straight to deep backward square leg.
Brad Haddin comes in at no. 8
Australia 284/6
James Faulkner b Yadav 21 (12)
OUT! Umesh gets his fourth. Length ball and Faulkner was aiming mid-wicket, but missed and the ball rattled into middle and leg.
Australia 271/5 after 45 overs
Shane Watson 16 (20), James Faulkner 10 (8)
Few quick wickets have dented Australia's hopes of going past 350 but Faulkner and Watson are playing some aggressive cricket to set up a daunting total for India to chase. 320-330 looks comfortable from here.
James Faulkner comes in at no. 7
Australia 248/5
Michael Clarke c Rohit b Mohit 10 (12)
OUT! Mohit gets the wicket as well. Short ball from Mohit, Clarke pulls to straight down the throat of Rohit Sharma at mid-wicket.
Australia 239/4 after 40 overs
Shane Watson 2 (5), Michael Clarke 3 (5)
What a comeback by Indian bowlers. They have picked up three quick wickets of Smith, Maxwell and Finch and put the pressure back on the Australians. India still pack them up within a manageable total.
Michael Clarke comes in at no. 6
Australia 233/4
Aaron Finch c Dhawan b Yadav 81 (116)
OUT! Another wicket. Finch is a goner and Umesh Yadav is delighted. Finally a wicket on short-ball. He went for the pull but struck high on his bat and goes up in the air. Dhawan at short mid-wicket jumps in the air and grabs the ball safely with both the hands.
Shane Watson is in at no. 5
Australia 232/3
Glenn Maxwell c Rahane b Ashwin 23 (14)
OUT! Ashwin strikes and Maxwell goes. Flatter ball on the leg stump, Maxwell slog-sweeps, doesn't bother to keep it down and hangs it down to Rahane at deep backward square leg.
Australia have bludgeoned 64 runs in the five overs of batting powerplay with the loss of Steven Smith. After Smith and Finch, Maxwell gets into the party as well, smashing Umesh Yadav for a six and couple of fours in an over.
Australia 206/2 after 35 overs
Aaron Finch 73 (106), Glenn Maxwell 5 (4)
Steven Smith gets his hundred in style with a six and four off Mohammed Shami and Aaron Finch at other end has also opened his hands. However, Umesh Yadav gave the major breakthrough of Steven Smith in his first ball of the second spell. Using short balls have really backfired the Indian pacers. 300 is definitely on the cards as the run rate has soared to almost 6 runs per over. India need to bat really well if they are to win this match. Australia took the batting powerplay after 32 overs and so far 39 runs have been scored in 3 overs with a wicket of Smith.
Glenn Maxwell comes in at no. 4
Australua 197/2
Steven Smith c Rohit b Yadav 105 (93)
OUT! That's the wicket they wanted. Dug in short on the stumps, Smith made room for the big pull, but spliced it, Rohit at deep mid-wicket settled under the skier and took it easily. But is the damage already done?
Australia 155/1 after 30 overs
Aaron Finch 56 (94), Steven Smith 80 (79)
Both Smith and Finch are up with their half centuries and looking very dangerous. Indian bowlers have not been able to control them at the moment. They need couple of wickets desperately. Ashwin has bowled 7 overs on the trot and conceded 26 runs. The only good thing is they have managed to restrict the Australian run rate under 5.5 rpo but the batting powerplay is still to come.
Australia 132/1 after 25 overs
Aaron Finch 47 (80), Steven Smith 66 (63)
Australia batsmen are charging in with some quick runs. Steven Smith is looking very dangerous as he is sending the balls past the boundary line. He smashed a full length delivery for a six to deep mid-wicket. The partnerhsip is now 117 off 131 balls. Finch survived an lbw appeal after India reviewed the not out decision by the umpire. Finch got outside off and went for the big sweep, it was too full and he missed, but he got outside the line. Impact was umpire's call and Finch will stay. Just got outside the line, but that will do. It was Ravindra Jadeja who forced Mahendra Singh Dhoni who also felt that it had struck the batsman outside the line of off. Ravindra Jadeja though was very convinced and eventually MS had no option but to go for the review. The third umpire says original decision will stand.
Australia 105/1 after 20 overs
Aaron Finch 34 (58), Steven Smith 52 (55)
There seem to be no stopping sign for the batsmen here. Steven Smith continues his good run against India starting from the test series. He followed his half century against Pakistan in quarters with another fifty against India in the semis. The spinners have not been effective so far as well. The partnership is cruising along and India need to break it as soon as possible. They need to pick up regular wickets to keep Australia on the backfoot.
Australia 82/1 after 15 overs
Aaron Finch 23 (43), Steven Smith 43 (40)
Smith have been driving Australia innings so far to setup a fifty run partnership. He earlier said that if India will stick to the strategy of bowling bouncers, it will back fire to them. And they are doing so as most of the boundaries have come off the short balls. In a strange move by Dhoni, Virat Kohli was introduced ahead of Jadeja, Ashwin and Raina to bowl and conceded 7. Smith is playing confidently and has played some glorious shots against the Indian seemers. India has to attack against Finch and try to get him out at the other end.
Australia 56/1 after 10 overs
Aaron Finch 11 (27), Steven Smith 30 (26)
A fair start by both the teams. Bowlers are using the pace well but Australians are not leaving a single opportunity to score runs. Singles are coming and while Smith smashed Umesh for four fours in an over to end the boundaries drought.They are rightly targeting the shorter boundaries. Steven Smith breaks the bottom edge of the bat and had change.
Australia 31/1 after 5 overs
Aaron Finch 8 (17), Steven Smith 9 (6)
Umesh Yadav after a poor first over strikes on the first ball of his second over with the wicket of David Warner. He mistimes a flick and the ball safely landed into hands of Kohli at mid-off. Meanwhile the ball is swinging and Shami is trying to bring the ball back into the right hander and trying to hit the pads and he has been successful so far. Shami beats Finch on the very first ball of the match which swung away from a length, beats the outside edge of the defensive bat. You can hear the chanting by the Indian supporters at SCG. Both the batsmen on the crease have scored a boundary each and the run rate of first five overs is a fraction above 6. That's a fair pretty good start by both the teams.
Steven Smith walks in at no. 3
Australia 15/1
David Warner c Kohli b Yadav 12 (7)
OUT! That's a big wicket for India. Umesh Yadav strikes. Warner too early into the flick and the leading edge goes straight up in the air and Kohli at mid-off takes an easy catch. SCG has gone wild.
Mohammed Shami has the new ball and Finch takes the strike...here we go....two slips in place
Indian team are in a huddle and meanwhile Australian openers Aaron Finch and David Warner are walking upto the middle.
The match officials are walking out and so are two captains are leading their side for their respective national anthems.
On all occassions India bowled first in this world cup, no team have crossed the 300 run mark.
India (Playing XI): Shikhar Dhawan, Rohit Sharma, Virat Kohli, Ajinkya Rahane, Suresh Raina, MS Dhoni(w/c), Ravindra Jadeja, Ravichandran Ashwin, Mohammed Shami, Umesh Yadav, Mohit Sharma
Australia (Playing XI): Aaron Finch, David Warner, Steven Smith, Michael Clarke(c), Shane Watson, Glenn Maxwell, Brad Haddin(w), James Faulkner, Mitchell Johnson, Mitchell Starc, Josh Hazlewood
MS Dhoni says he would have batted first as well. Everyone is fit so no change in the squad, Dhoni said.
Australia have won the toss and have elected to bat first. They are playing with same playing XI so no Xavier Doherty in the squad. Glenn Maxwell will be playing as a frontline spinner once again.
Experts say that India should bat first and score 300+ and put on early pressure on the Australians. So the toss is going to be very crucial.
According to the organizers, around 70% tickets have been bought by the Indian fans here. Therefore it is more likely to witness a 'sea of blue' rather than Golden SCG.
India confronts a side that has won seven of their 10 World Cup encounters against them. Although, the Mahendra Singh Dhoni-led team had secured a five-wicket win in the quarter-final at home in Ahmedabad four years ago.
Indians fans in Sydney are very much ecstatic. They have already declared India as the World Cup winners. Fans from Melbourne have come to Sydney are saying that they came here to take Dhoni with them to Melbourne.
Australia has lost only one limited-overs international to India at the Sydney Cricket Ground, something of an enigma considering it's the one venue in Australia which tends to favor spin, and dominated the bilateral test and ODI series leading up to the World Cup.
Also read: India vs Australia: Clarke wary of formidable Indian bowling in semi-final
This Indian team is on a seven-match winning-streak, shoving aside everything that has come their way. It won't be the same easy run that Australia had this summer.
The World No.1 side, on the other hand, have lost a match in this tournament, against New Zealand. The quarterfinal against Pakistan also showed that their batting order is brittle, something that Indian pacers would like to exploit.
Also read: World Cup 2015: Mitchell Johnson could be sledger-in-chief against India
Mitchell Johnson have warned India that he will continue the sledging while Steven Smith asked Indian bowlers to bowl bouncers at their own risk. Indian pacers have taken 43 wickets out of which 25 have been from short pitch deliveries.
Also read: World Cup 2015: Short-ball tactics could backfire on India, says Steve Smith
The Aussies also have not stopped short of reminding the defending champions of their dismal tour Down Under this Australian summer.
Also read: Hope India remember winless streak against us: Maxwell
Aaron Finch suggested this week that the Indian squad might be scarred by their losses to Australia before the World Cup, an assertion Sharma and Virat Kohli both rejected Wednesday.
Also read: Hope Australia don't cross the line while sledging: Rohit
India batsman Rohit Sharma said his squad was prepared to fight fire with fire in which has forged its reputation on an aggressive, uncompromising brand of the game.
Also read: World Cup 2015: Perfect time to beat Australia, says Virat Kohli
David Warner's savage attack against Mohammed Shami's probing length or Michael Clarke's years of experience against Ravindra Jadeja's restrictive lines also has ingredients of a blockbuster. Not to forget Mitchell Starc's guile against Virat Kohli's flair.
Also read: World Cup 2015: Aus vs Ind – Five key battles in the final before the grand finale
Left-arm spinner Xavier Doherty, the only specialist slow bowler in the Australia squad, went wicket-less in the only game he has played at the tournament — against Sri Lanka at the SCG.
Expect a few battles inside the main battle. It could be between Ravichandran Ashwin's carrom ball against Glenn Maxwell's pyrotechnics.
One of international cricket's fiercest rivalries will resume after six weeks when Mahendra Singh Dhoni's men will get down to business against Michael Clarke's team which will be supremely competitive with some high-quality performers in their ranks.