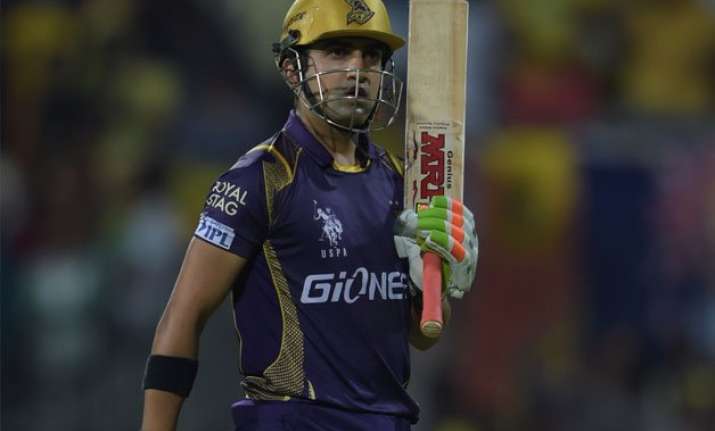 Mumbai: Kolkata Knight Riders skipper Gautam Gambhir blamed his bowlers and fielders for their narrow five-run defeat against Mumbai Indians in a nerve-wracking last-over IPL thriller here on Thursday.
Mumbai recovered from 79-4 in 11.4 overs to post 171-4 in their stipulated 20 overs and Gambhir said his bowlers needed to be clever while bowling at the death overs.
"I always felt that letting them score 170 was not a great effort from our bowlers. Hardik played a brilliant innings, but our bowling and fielding were not up to the mark," Gambhir said after the match.
"Letting them score 170 was the game-changer, especially after the first 15 overs they had. We needed to be more clever in the death overs. You can't let anyone score 70 in five overs.
"We did well to get it down to the last over, but we kept losing wickets at crucial junctures. Yusuf played a very good knock," he added.
KKR will now have to win against Rajasthan Royals in their last league match to earn a place at the play-off and Gambhir exuded confidence that they will make it on Saturday.
"Nothing comes easy for KKR. We've always had to work hard and scrape through, I hope we get our number one game for the 16th," he said.
MI captain Rohit Sharma credited his team for helding on to their nerves in crucial situations.
"It was a very nerve-wracking game. We all know it went to the last over but we held our nerves, and it was a wonderful game for the spectators," he said.
"When we were batting, the ball was stopping, odd ball was gripping and turning, so we didn't know exactly what the par score was. Normally it's a 180 wicket, but this was a different wicket, a little slow.
"During the strategic time-out (we decided Pollard would bowl the last over). Polly has been in that situation before.
It was a gamble, but looking at his body language, his confidence, I knew I could throw him the ball and he would do the job," Sharma added.
Man of the match, Hardik Pandya, who blasted an unbeaten 61, said: "Before every game I talk to Ricky. Pollard told me to take my time at the start, he told me I can cover up later.
"Even Sachin sir is helping a lot, how I can improve my game. I can say now that I can bat a bit. They have faith in me. It was good [Gambhir] got out next ball [after I dropped him]. It was a relief," he said.