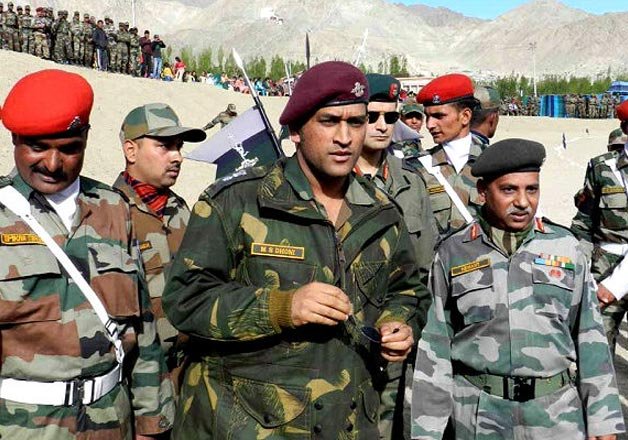 New Delhi: After Indian wrestler Yogeshwar Dutt and cricketer Guatam Gambhir voiced their concerns over the ongoing uproar on the issue of freedom of expression, it is now Team India's skipper MS Dhoni who has called for respect to the armed forces.
Dhoni took to Twitter to express his support to the armed forces, thanking the men in uniform for their bravery that allows the citizens to continue to debate.
"As we have this debate on freedom of speech our forces are making sure we stay in position to keep debating," his first tweet reads.
"Special forces and commando unit's are normal people like you and me who are highly motivated and trained to put the interest of the nation before self," his another tweet reads.
Dhoni holds the honorary rank of Lieutenant Colonel in the Indian Territorial Army.
Dhoni's remarks have come amid raging protest amid continuing uproar on the issue of freedom of expression in the country after February 9 event in Jawaharlal Nehru University (JNU) where anti-India slogans were raised to mark the hanging of Parliament attack convict Afzal Guru.
Before Dhoni, top athletes including Shikhar Dhawan, Gautam Gambhir, Yogeshwar Dutt and Vijender Singh had come out openly in support of the armed forces saying 'nobody should speak ill about the country they live in'.
Meanwhile, hundreds of ex-servicemen took out a march from Rajghat to Jantar Mantar in Delhi today against what they termed as 'anti-national' activities at the JNU campus.
The rally was organised by an apolitical group 'People for Nation'. "This clearly is an organised attempt by disruptive forces, possibly with foreign funding, to attempt to balkanize India," a statement released by the group said, adding such anti-India slogans have found resonance in other universities as well as the Kashmir Valley.