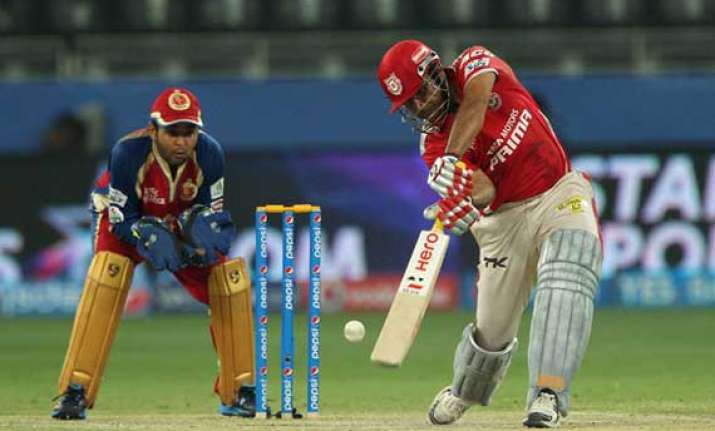 Kolkata: He may not have set the Indian Premier League (IPL) on fire with his batting, but Kings XI Punjab opener Virender Sehwag is not being taken likely by Kolkata Knight Riders coach Trevor Bayliss who hopes the dashing batsman would get out early during their encounter Tuesday.
Speaking to the media Monday ahead of their Qualifier 1 match against Punjab at the Eden Gardens here, Bayliss said his team needs to be on its guard against the opponent batters who can turn around the match any time.
"Sehwag is still a very dangerous player. When players get older, their consistency may fall a bit, but that doesn't mean they can't score in the same manner that they did at one time.
"He has batted really well on occasions in the tournament scoring some big scores. So we are certainly not taking him lightly. He is a class player and very destructive batsman and we will have to get him out very early," said Bayliss about Sehwag, who so far has scored 324 runs from 14 outings.
"We are very happy with the way we played against Kings XI in the previous two matches, losing one and winning the other. They are obviously a very good batting team and can quite easily turn around the game. So we need to stay focused," he said.
With Knight Riders on a seven-match winning streak to power themselves to the play-offs, Bayliss asserted his team has peaked at the right time.
He attributed the promotion of Robin Uthappa up the order as the main factor behind the turnaround after the side lost five of its seven initial games.
"We did make a few small changes and the biggest change was in the batting order trying to find the best combination. Over the course of the tournament I think we have come out with the best combination," said Bayliss, admitting that playing Uthappa in the middle order in the early part of the tournament wasn't fruitful.
After being promoted as an opener, Uthappa has been a revelation scoring 613 runs from 14 games to be the highest run getter in the tournament so far. Bayliss, however, said the team might make a few changes in the team depending upon the surface they are playing on as well as the opposition.
"We have peaked just at the right time and our campaign this year is very similar to 2012 when we had won the crown .Then too we had won seven games coming into the semi final. Certainly we are in a good space but that doesn't mean we will win.
"To give us a chance we need to be playing good confident cricket. But we are very much on the top of our game and we are confident going into the semifinal," added Bayliss.