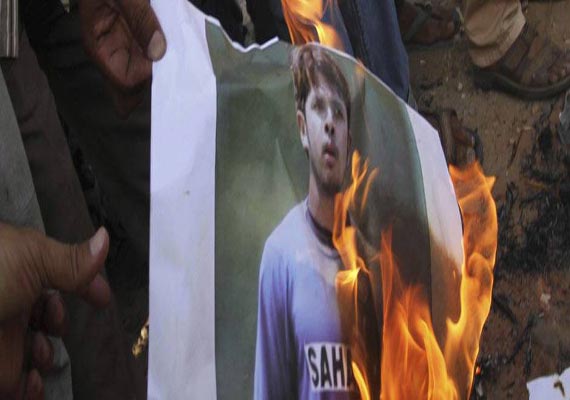 New Delhi, May 17: Indian pace bowler S. Sreesanth has been kept in a separate cell of Delhi Police safehouse, away from his two Rajasthan Royals team mates Ankeet Chavan and Ajit Chandila, as Delhi Police sleuths try to unravel the massive India-Pak-dubai nexus of bookies, shady operators, underworld gangmen and fixers.
A Delhi Police inspector is specifically keeping track of Sreesanth's movements. The bowler is in a shocked state and has refused to even interact with the other two players.
A senior Delhi Police spoke to Sreesanth this month, but the bowler said he was not aware of any bigger racket.  Police are planning to confront him with tapes of telephonic intercepts.
Ajit Chandila, says an officer, appears to be a hard nut to crack, while Ajeet Chavan broke down during interrogation.
Delhi Police is trying to unravel about spotfixing in earlier
IPL
matches too. There have been several hints of spot fixing in earlier IPL editions too, as the transcripts of conversations reveal.
Ajit Chandila's involvement is suspected in earlier games  too. During a dispute between the bookies and Ajit when the latter forgot to show the sign during his 'tainted' second over, police has zeroed in on the assumption that there may be spot-fixing in earlier matches too.
The audio analysis done by the special cell  shows, Ajit mentioning in one conversation: 'Did you have a problem last year?'
According to police, most of the time Shreesat, Ankit and Ajit used to communicate with  Chandrsh alias Jupiter, Jiju Janardanan and two Delhi bookies through Blackberry Messenger, WhatsApp and Wechat.
The modus operandi appeared to be like this:
For any meeing, etc, Jiju used to go to that city where Rajasthan Royals match was scheduled, and before and after the match, he used to call Sreesanth to come and meet in any five-star hotel or at a friend's place.
Jiju and Sreesanth used to talk only in English or Malayalam on their phones, after which Jiju used to contact mastermind Chandresh alias Jupiter on phone and tell him details of his meeting with Sreesanth, and also about the code signs.
Jupiter, on his part, used to tell the Delhi and Gurgaon bookies about the code signs on phone.
Delhi bookies would then call Sunil Ramchandani, the master bookie based in Dubai, and also Manoj Metro about the the betting line rate in other code language.
The Dubai based line operators would then pass on the information to their Karachi-based handlers (read D Gang guys).
The bookies used specific SIM cards like 'khacha card' in Mumbai or "Dabba card' in northern India.
Such cards are not registered in the names of persons who used  them. The cards are available in the grey market for unlawful activities. In Mumbai, khacha cards are avilable in Nalbazar, Bhindi Bazar, Chor Bazar, Mohammad Ali Road and Manish Market. Khacha cards usually sell for Rs 5,000-Rs 10,000. Usually a time limit of 15 or 20 days is given for unlimited calls both STD and ISD.
Jiju, Jupiter and three more Delhi bookies had these khacha cards with them at the time of arrest.
Delhi police is presently interrogating the bookies about the meaning of these code language, particularly "aaj bahut achha ho gaya aaj".
The audio conversation of bookies with Karachi-based Noor, Qasimbhai and three more persons are being delved into thoroughly. They are Pakistani bookies working for D gang.
Both Manoj Metro and Sunil Dubai are also handling betting business for D company from Dubai's Burz Dera and Gold Souk Palace for the last two decades.
Arrested bookie Chandresh Patel alias Chandubhai alias Jupiter, also known as Jupiter Malad in bookies' circles, was in constant touch with Sunil Dubai and Manoj Metro and through them with D company's bookies based in Karachi, police sources said.
Jiju supplied models and escorts girls to the three IPL cricketers on five different occasions, when they used to meet for spotfixing deals, police sources said.
Jiju and Jupieter also gave nearly Rs 40 lakhs each to these players and were ready to give more money till the Rajasthan Royals entered the IPL finals.
All slush money given to these players were in cash of Rs 1,000 deonominations.
How bookies earn?
-In the last 10 to 12 matches, all arrested bookies knew what would be going to be in the next few 'fixed' overs.
-The bookies then used to ask Sunil Dubai and Manoj Metro to open betting lines from Dubai.
--Like in Sreesanth's over, they fix the rate 20 paise for 15 runs, and Rs 2 for 5 to 7 runs.
--Many punters who invest lakhs of rupees on the second option as Sreesanth is a good pace bowler, lost their betting in lakhs, if not crores, as the spotfixing had already been struck,.