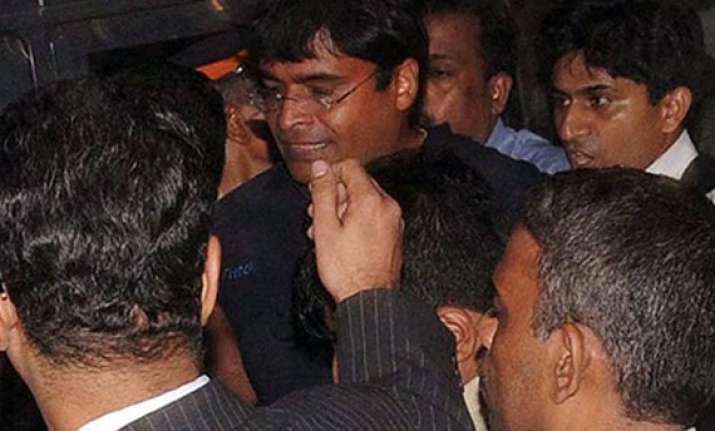 Mumbai, May 28: Mumbai Police crime branch officers on Monday searched a 70-feet-long yacht Marina in  Chennai, owned by Gurunath Meiyappan, presently in Mumbai under police custody.
Police found a telephone and Meiyappan's diary containing names and contact numbers of players belonging to Chennai Super Kings and other
IPL
teams.
Meanwhile, Mumbai police is desperately searching for hotelier Vikram Aggarwal alias Victor who was reportedly close to both actor Vindoo Dara Singh and CSK honcho Gurunath Meiyappan.
Aggarwal is presently missing. His family told Mumbai police that some persons took away Aggarwal on Monday morning, and there has been no contact since.
Chennai Police told Mumbai crime branch officials that they have neither detained nor arrested Aggarwal alias Victor.
Vikram Aggarwal is known in bookies' parliance both as Victor and Vikram.
It was Vikram, who booked rooms in Sofitel Hotel in Mumbai  for Sreesanth and Jiju Janardan. He had also booked hotels for Sreesanth in Chandigarh , and a hotel in Powai for Meiyappan.
Police believe Vikram is the main link connecting Sreesanth, Vindoo Dara Singh and Gurunath Meiyappan.
According to Himanshu Roy, Joint CP, crime, Mumbai Police, Vikram Aggarwal was an old friend of Vindoo Dara Singh since last 15 years, and he was also a close friend of Meiyappan.
A report from Chandigarh says, bookies Manan U. Bhatt and P. Jiju Janardan had stayed in room no 201 of Hotel Regent in Chandigarh on May 9, the day Rajasthan Royals played its IPL match against Kings XI Punjab.  This hotel is close to JW Marriott hotel, when the players of both teams were staying.
Delhi Police special cell head constable Balwant Rana has taken away the cctv footage from Hotel Regent.
Mannan and Jiju reached their hotel room at 10.55  am on May 9 and left on May 10 7.32 pm. The hotel staff had no records of Jiju, because he was staying with Mannan, who had showed his driving licence as ID proof.
The two were carrying large bags at the time of check-in.  The rooms were booked at the instance of Vikram, a regular visitor to this hotel with phone number 09998288552.  His cellphone is now switched off.