Follow us on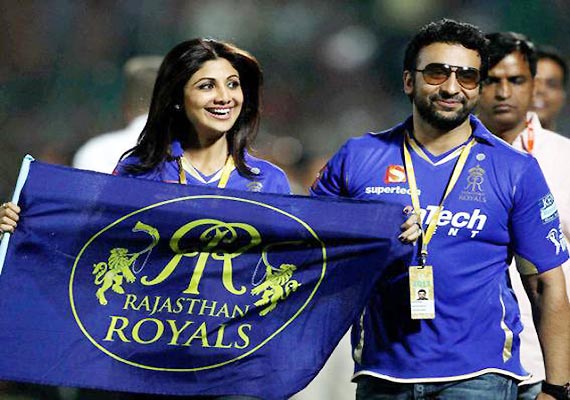 New Delhi, June 6: The ongoing IPL betting and spot-fixing probes have scalped  another IPL franchise owner, Rajasthan Royals owner Raj Kundra, who has admitted to Delhi Police that he used to bet on IPL matches, Delhi police commissioner Neeraj Kumar said today.
The police chief said: "He(Kundra) has admitted during interrogation that he used to bet, mostly on his own team. He also revealed that he lost a lot of money on betting."
Reports said, Kundra lost nearly Rs 50 lakhs on betting, he told investigators.
The police commissioner said, "Kundra used to place betting through his friend a bookie Umesh Goenka".
About Siddharth Trivedi, Neeraj Kumar said: "We only got information from him".
Asked whether Kundra being a UK-based British NRI would affect the investigation, the police chief replied in the negative.
"I can't predict what will happen in future. I can't say anything right now", said the police commissioner.
Neeraj Kumar also clarified that MCOCA (Maharashtra Control of Organised Crime Act) provisions were slapped on Rajasthan Royals players not with a view to stall their bail pleas, but because of the facts emerging out of the investigation.
Meanwhile, the  passport of   Raj Kundra has been seized and he has been asked not to leave the country till the spot fixing probe is over, a Delhi Police official said Thursday.
"We have seized Kundra's passport so he doesn't go out of the country till the spot fixing probe is over. We will be questioning him further," a police official said.
Kundra, who is a British national, has businesses in Dubai, Ukraine and Botswana.
"Kundra's role is very important in the Rajasthan Royals team. We are yet to decide on his arrest. It will be known only after further questioning," the official added.
He was questioned for more than 10 hours Wednesday.
According to police, Kundra's business partner Umesh Goenka might be questioned again in connection with the Indian Premier League spot fixing case.
Delhi Police have arrested 26 people in the case, including
S. Sreesanth
, Ajit Chandila and Ankeet Chavan -- part of the Rajasthan Royals team. While 23 people have been sent to judicial custody, two of them, Chavan and Sreesanth's friend Abhishek Shukla, are on bail and bookie Tinku Mandy has been handed over to Mumbai Police.
The 26 people were Tuesday booked under the stringent Maharashtra Control of Organised Crime Act. Altogether, some 60 people have been arrested across the country in connection with the spot fixing scam.