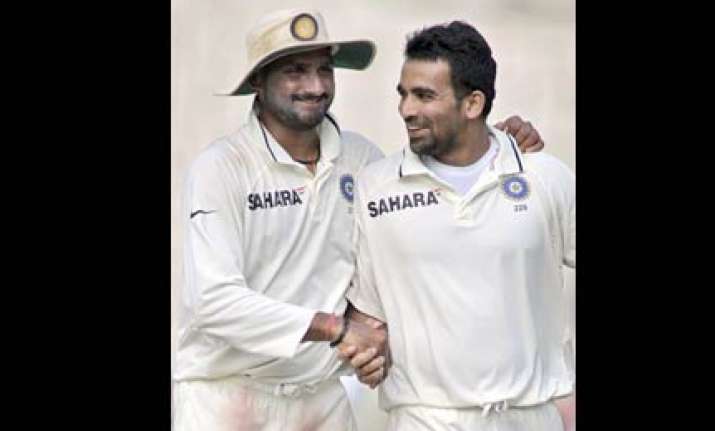 Mohali, Oct 5: India have taken an unassailable 1-0 lead in the two-match series against Australia after snatching a narrow one-wicket win in a nail-biting first Test here today but strike bowler Zaheer Khan said the home side would look to keep the momentum going.
"This series is very important for Team India. We have gained the momentum in the series and want to keep it going," Zaheer, who took a haul of eight wickets in the match, told reporters after the match.
The second and final Test starts in Bangalore on October 9.
Zaheer credited senior batsman VVS Laxman, who hit an unbeaten 73, for the win.
 "We call him Very Very Special (VVS). He has done it so many times for India. He played a remarkable innings and the way he approaches his game is fantastic. He got us out of the dangerous situation, full credit goes to him," Zaheer said about Laxman, who holds an impressive record against the Australia.
Asked if he thought that Laxman was a better candidate to be awarded man-of-the-match, he said, "I would have no problem if the man-of-the-match award had gone to him. As a team, we play to win, and that's what matter to me. I would rather give it to him. Winning matches is more important (than awards)."
Zaheer also agreed that the sight of Laxman batting on the field calms the nerves at the dressing room especially when the team was in a difficult situation.
Regarding Laxman's back spasm, Zaheer said he had talked to him at the end of the match today and the back stiffness was still there and the team physio was taking care of it.
On bowling on the Mohali track, Zaheer said for fast bowlers bowling in the sub-continent was always tough.
"But we fought hard and had a superb game of cricket over the five days. Both the teams wanted to win badly," he said.
Zaheer said that everyone inside the dressing room was a bundle of nerves when India were struggling to chase the target of 216 and with tail-enders batting with Laxman.
"Everyone was nervous for sure, I was also very nervous," he said. PTI