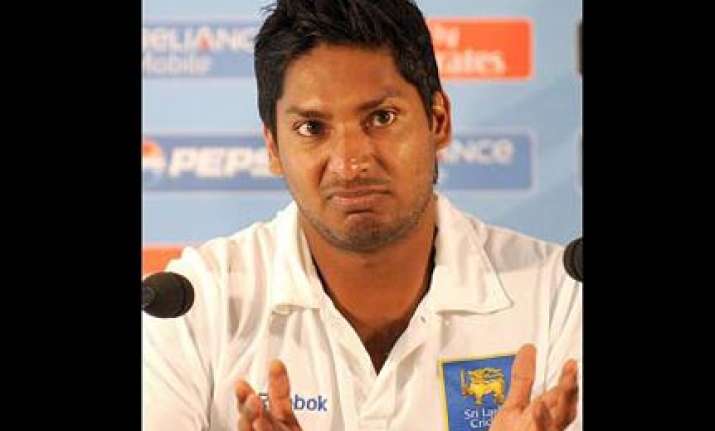 India would be under pressure to maintain their home record of not losing a single Test to Sri Lanka in their previous 14 encounters, reckons Sri Lankan captain Kumar Sangakkara. 
Sangakkara said he and his teammates would do everything to break the jinx but the hosts would not be without any pressure either. 
"We have to wait and see how India comes out of this loss (against Australia), especially at home. We are under no pressure. We have not won a Test here before and we are here to change things in Mumbai.
The pressure is on India to keep their home series record intact," Sangakkara said at a media conference after arriving in the wee hours on Sunday.
Sangakkara said the Lankan new ball attack may be an inexperienced one, but that may turn out to be an advantage. 
"Sometimes inexperience is good. Maybe the Indian batsmen have not really played our fast bowlers regularly in the longer format of the game. 
"It's good to have some experience when you come to a country like India. But sometimes a fresh perspective, enthusiasm and right attitude will also be an added bonus," said the Lanka captain. 
Sangakkara said that the presence of a performing all-rounder like Angelo Mathews has given his team a lot of options in both batting and bowling and they can even think of including all three spinners in the eleven if needed.
"It's a great option to have three spinners with someone like Angelo Mathews who is bowling so well. He gives us that flexibility as a frontline fast bowler and batsman. It frees us one spot if the wicket shows us that three spinners are a possibility," Sangakkara said.
However, he added, that on a regular basis his team went in with three fast bowlers and two spin bowlers. 
"Most often we like to play three fast bowlers and two spinners. The Angelo Mathews factor gives us the edge of having a proper all-rounder in the side," he explained. 
Sangakkara maintained that there was no mystery left in world cricket with the video analysis that's available today. 
"Words like mystery are exaggerated. You are a mystery only in your first series with the sort of video analysis available. You have to work harder later on," he said. 
Lankan mystery bowler Ajantha Mendis had troubled most of the top Indian batsmen when the last series between the two outfits was held in the Emerald Island. 
Sangakkara praised left-arm spinner Rangana Herath for the progress he has made recently, especially in the series at home against New Zealand and Pakistan where he outshone not only Mendis but also world record-setting wicket-taker Muttiah Muralitharan. 
"Herath is a great player. He's a positive guy who tries his heart out. Such a good spinner had to play third fiddle to Murali and Mendis which has made him hungrier. Against New Zealand and Pakistan he out-bowled Murali and Mendis by a long way. He's a very important player and we hope he can replicate that performance," the Lanka captain said. 
Sangakkara said his team had two wicket-keeping options in number one Prasanna Jayawardene and Kaushal Silva and hoped his squad would settle down very soon ahead of the first Test in Ahmedabad commencing on November 16. 
"Kaushal Silva, who is understudy to Prasanna Jayawardene, has scored a huge amount of runs in domestic cricket. He gives us an extra option. But we have to settle down very soon into a winning combination before the Ahmedabad Test," he said. 
The Lankans are to open the tour with a three-day side game against the Board President"s XI at the MCA's Recreation Centre in the Bandra-Kurla Complex from November 11. 
They are scheduled to play the second and third Tests at Kanpur and Mumbai before clashing with the hosts in two T20 Internationals and a best-of-five ODI series. PTI