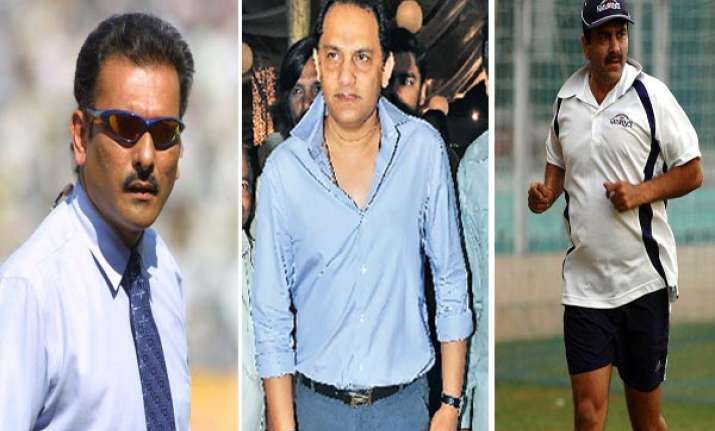 New Delhi, May 23: India TV on Wednesday night telecast Tehelka sting footage from the year 2000, done on Ravi Shastri, Navjot Singh Sidhu, Manoj Prabhakar and Kiran More, in which the players disclosed how underworld don Dawood Ibrahim once visited Team India's dressing room and was shown the door by captain Kapil Dev.
The stings also reveal how former captain Mohammed Azharuddin gave Rs 5 lakh cash on-the-spot to a man to buy a fancy watch.
Cricket fans in India may have often seen TV footage of Dawood Ibrahim sitting in a special lounge in Sharjah watching Team India play, but the Tehelka sting showed Ravi Shastri recounting how Dawood Ibrahim once came to Team India dressing room 27 years ago.
The sting shows Manoj Prabhakar saying: "Yes, there is a photograph....Dawood with Asif Iqbal in Outlook.."
Ravi Shashtri:  "Yes, he (Dawood) used to come..Do you remember he once came to the dressing room?  Kapil Bhaiya told us..You were not there in 1986? He (Dawood) came to the dressing room in Sharjah..Others were clever. I came to know early. I sneaked out to have tea. Kapil stood up and asked him..who are you? Please go out.  Then he (Kapil) came to know, went to him and apologized...Ha..ha ..Ha.."
In the sting, Ravi Shastri disclosed how Mohammed Azharuddn bought a deluxe watch by paying Rs 6 lakh cash on-the-spot. This happened  in 1996 during the Titan Cup in India. Sachin Tendulkar was the captain and Azharuddin was also playing.
The sting reveals the players as saying:
Ravi Shastri: "Do you know what he (Azhar) did with Pappu Bhutani?
Manoj Prabhakar : "With whom? Azhar?"
Ravi shastri : He (Bhutani) was sitting in the tent. You were playing  You had finished playing.. It was Titan Cup or something else?"
Manoj Shastri:  "Me? Titan Cup?"
Ravi Shastri : "And then..Pappu knows"
Ravi Shastri: "Azhar went up to him and said your watch is very nice.  Bhutani said, No yaar, its OK, its cheap. Azhar asked, how much is it worth?  Bhutani said, nearly Rs 5-6 lakhs"  Azhar then said..wait a minute.  Azhar went upstairs, brought a bag with Rs 6 lakh cash, gave it to Bhutani and took away his watch."
Ravi Shastri then went on to say that the watch that Azhar bought was actually worth Rs 1-2 lakhs.
Manoj Prabhakar: "Did he give the money?"
Shastri:  "Pappu  was  **** He returned Rs 6 lakhs and took away the watch. Later Bhutani said, he had spoken a lie The watch was worth Rs 1-2 lakh. He said, I was just bragging it was worth Rs 5 lakhs."
When CBI investigated the matchfixing case, Azar said, he did not buy any costly watch from Bhutani but CBI wrote in its report, there were attempts to the fix the Titan Cup.  The fixers wanted India to lose the Titan Cup final, but good batting by Sachin Tendulkar and wonderful bowling by Anil Kumble helped India win and the bookies lost badly.
Another part of sting:
Manoj Prabhakar: "Something happened in England. he (Azhar) bought a watch in England. Chawla must have paid the money"
Ravi Shastri: "No, No, he bought it recently in Dubai"
Pabhakar: "Then that Chawla would have been in Dubai"
Shashtri : " No.. this year"
Prabhakar:  "20,000 dollars?"
Shstri : "I heard the watch was worth 20 to 25,000"
Prabhakar : "that watch?"
Shastri :  "25,000 dollars"
Shastri further said, when Azhar was short of money, he rang up somebody and got the cash.
Prabhakar: "So, he was short of 10,000"
Shastri: "Yes, he (Azhar) phoned Bombay and said, send me the money here"
If what Ravi Shastri said was true, it means, what's happening today in
IPL
was the same that was happening 17 years ago in Indian cricket.  CBI investigated the match fixing case 17 yers ago, spoke to most of the cricketers, but none of the players were convicted.
Ajay Sharma was a player who played one Test and 31 ODIs. On hidden camera, Ravi Shastri's wife named Ajay Sharma.  At 11 pm, two suspicious persons went to Shastri's house saying they were Ajay Sharma's relatives, and wanted Shastri to sign a contract.
Ritu (Ravi Shastri's wife): "It's surprising, once Ravi had gone to Madras to play Ranji match. At 11 pm I was alone. two men came to our place, they said, they were cousins of Ajay Sharma and wanted Ravi bhai to sign a contract. I said, it was impossible Ravi must have told them so. He is not in town. They said, no, we will show you the contract."
Manoj Prabhakar: "When was this?"
Ritu: "Ravi was then playing cricket"
Prabhakar: "Was it before 1994?"
Ritu: "Yes, they said, can we come inside..we have to get this contract signed. I told them it's 11 pm. You can't come in. I don't know anything about this contract. I don't know who you are"
Prabhakar: "Where did this happen?"
Ritu: "Here, at this door. I said, go away, they said, no, we have to leave for Benares early morning, we have to catch the 6 am train This has to be signed now. I said, I am telling you, he is not here. I told them to leave my house. Then I shut the door.
When the men failed to get the contract signed, they went to Sunil Gavaskar's flat. This is what Ravi Shastri's wife had to say:
Ritu: "I then called the wtchman. I asked who were they. He said, they said they were cousins of Ajay Sharma. The watchman said, they told me they had to go to the 8th floor. They did not tell me, they are coming to your apartment. I asked the watchman, are they downstairs, he replied, no they are still upstars.  Since Sunil Gavaskar was not here, his parents were alone, and the door was open. Those two guys were sitting with Sunil's father. I then asked him, Uncle, do you know these two people. He said, I don't know them, they are saying they are Ajay Sharma's cousins. I said, how do you know they are Ajay Sharma's cousins, and what are they doing here at 11 pm. They had come to our flat. Ravi is not at home. now they have come here. Sunil is not in town. What do they want?  The two stood up and almost ran away...God knows, who they were."