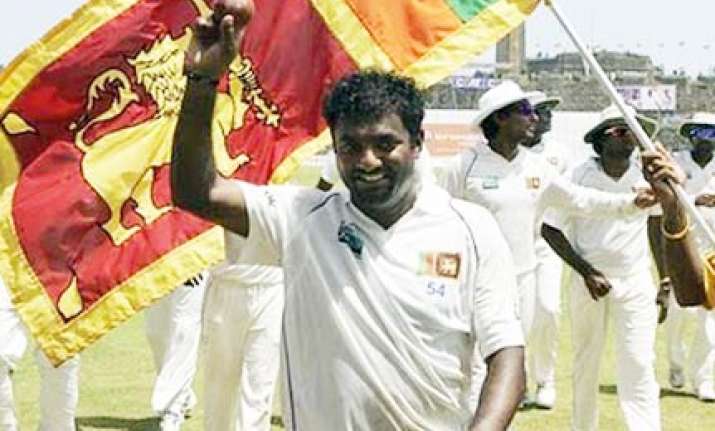 Johannesburg: Sri Lankan captain Kumar Sangakkara might find the ICC rankings system flawed but the country's retired spin wizard Muttiah Muralitharan feels it is alright and India are a deserving number one in the Test Championships table.
Sangakkara last month questioned the system and said it was not fair as the ICC had not devised a proper home-and-away format in its Future Tour Programme, hinting that Mahendra Singh Dhoni's men had not won series abroad against Sri Lanka, Australia and South Africa.
Muralitharan, who retired last month as Test cricket's highest wicket taker, had a completely different view on the system and said it was not necessary for a team to beat all other sides on tours before becoming number one.
"India deserve to be the number one Test side because they won a lot of matches. They won against Australia in Australia, they won against England in England and they drew the recent series in Sri Lanka 1-1," he told reporters on the eve of the launch of Champions League Twenty20 here.
"You can't criticise by saying that the point system is not good. That means you are trying to find fault with everyone. When some team deserves credit it should be given, you have to be honest," Muralitharan said.
"I think you can't justify by saying that you have to win home and away and then only you can be the number one. When Australia was the number one Test side, they had lost a series against us in Sri Lanka. Only in 2004, Australia won a series against us in Sri Lanka," he added.
"I think the ICC have got a system in place and they have done it to the best of their ability. It is fair enough and whoever is number one under this, they deserve it. No system can be perfect. There are nine Test playing countries and if you try to play home and away matches by each country, it will take five-six years to rotate and it is impractical," he said.
Muralitharan refused to dwell much on his recent attack on former Indian captain and his untiring critic Bishen Singh Bedi and said "I don't care what the reaction is from other people" after his outburst.
"Whatever I have said, I have said. That's it," he replied when asked if he had planned the verbal attack on Bedi.
Asked if he was surprised by the criticism from former Indian cricketers like Erapalli Prasanna and Maninder Singh for his criticism of Bedi, he said, "I don't care what anybody says. Whatever I have said is said. Whether they take it or not I don't care."
Muralitharan retired from Test cricket at 37 and he feels age should not be a criteria in judging an athlete.
"I don't think age should be the criteria as long as you are fit. Performance is the criteria. Sachin Tendulkar is 37 and he is getting a century, double hundred and everything. I also took lots of wicket before retiring. Experience is the advantage in Test cricket though there should be balance. A mixture of youth and experience is ideal," he said.
Muralitharan said Harbhajan Singh should not be put under undue pressure for failing to perform in the recent Sri Lanka Test series and young tweakers like Pragyan Ojha and Amit Mishra should be given some time to settle down.
"You cannot take the performance of only one tournament to judge Harbhajan. He is going through a rough patch. Before the last two Tests he took wickets against us in Mumbai. He is a great bowler and he will come back and take wickets.
"The other spinners Ojha, Mishra and even R Ashwin they are good bowlers. It is very hard to criticise them from one or two matches. You can't compare them with Anil Kumble who is a legend. Give some time to them and with experience they will do well," he said.
He also advised Dhoni not to use Virender Sehwag's part-time spin excessively in Test cricket as it may affect the dashing opener's batting.
"If Sehwag is used more, his batting may come down as it is hard to bowl and score. If Sehwag is used more in Test cricket as a slow bowler it may affect his batting. It is very hard to be a bowler in Test cricket," he said.
Muralitharan also revealed that he has been told by Sri Lankan Cricket Chairman of selectors Aravinda de Silva to prepare for the one-day tour of Australia in November.
The spin wizard would also play another three years in the Indian Premier League.
"I have been told by Aravinda to be prepared for the ODI tour of Australia. I have not stopped training and from going to the gym. I will not change my earlier routine and I will train my hardest. Everyday I bowl and bat with whatever facilities I am getting in Sri Lanka.
"I want to play the next three years of
IPL
before retiring totally from cricket. So I have to practice and definitely I would like to play in England or some other place," he said.
He said he gave up Test cricket to play a little longer in the two formats of the game and vacate a seat for the youngsters.
"I have had enough and I have nothing to achieve anymore.
So I took up the challenge of taking eight wickets in my last Test (against India in Galle last month). Everything went my way and I retired happily.
"If I were to play all three formats, I think I will have just one or one-and-half year left. But if I play only shorter versions of the game I can play two to three more years," he added.
Talking about the Champions League, Muralitharan agreed with former India captain Sourav Ganguly who had said that it would be tough for the three IPL Teams to win the September 10-26 event to be played at four venues in South Africa.
"Last time an Australian team won the tournament and it is not going to be easy for IPL teams because the other teams have good players. It is hard to pick the favourite as in Twenty20 anything can happen. The team which plays best in the two weeks will win.
"I hope Chennai Super Kings play well and take the trophy like we did in the IPL. It is not going to be easy but we have players who can win the tournament."