Follow us on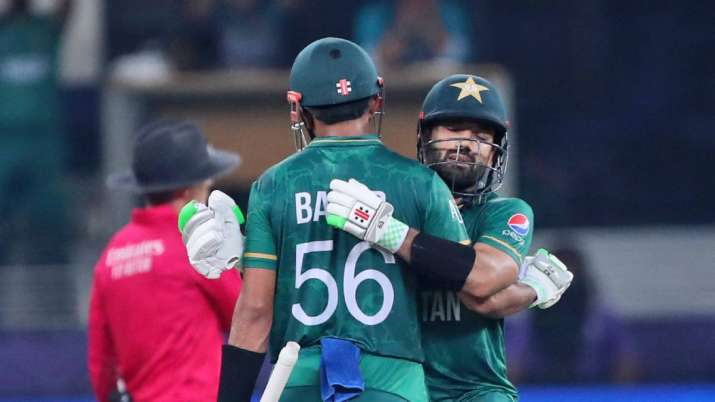 India vs Pakistan LIVE Score, T20 World Cup IND vs PAK Live Updates
That's all from our Live blog folks! Pakistan deserve all the credit for putting an all-around show with the bat and ball. The plan was simple from the side, bowlers will pick wickets and batters will chase down the target after bowling first. Shaheen Afridi shone with the ball for Pakistan as he picked wickets of
Rohit Sharma
,
KL Rahul
and 50-up
Virat Kohli
to finish with a spell of 3/36 while restricting India at 151/7.
Pak openers Mohammad Rizwan (79*) and Babar Azam (68*) chased down the total by the 18th over while registering a strong 10-wicket win to begin their tournament on an auspicious note.
Pakistan 152/0 after 17.5 overs A six and two fours from Rizwan (79*) at the beginning of the over to seal the victory for Pakistan, who defeated India for the first time in a World Cup game. Skipper Babar Azam should pat his back as well for scoring a solid 68 not out.
Pakistan 135/0 after 17 overs Bhuvneshwar provides a tight over to keep India in the game. 17 to defend off last 18 balls.
Pakistan 128/0 after 16 overs Pakistan are the firm favourite to win the match from here unless Indian death bowling specialists find a way back for India after hapless bowling throughout the night.
Pakistan 121/0 after 15 overs Rizwan finds gap through the midwicket to reach his 50. Another productive over for Pakistan! Require 31 runs off last 30 balls.
Pakistan 112/0 after 13 overs Azam is scoring runs at free will now as he clobbers Jadeja for two boundaries in the over. Pakistan canter towards their first win against India in a World Cup.
Pakistan 101/0 after 13 overs The 13th over by Chakravarthy pretty much took the game away from India's grip as 16 runs came off it, including two towering sixes. Azam also reached his half-century with the latest six of a poor short ball while Rizwan is four runs away from his 50.
Pakistan 80/0 after 11 overs Runs are flowing easy with both the openers feeling comfortable in the middle, Bumrah bowled some promising deliveries but Azam found that odd weak ball for a boundary early in the over to take the pressure off. The Pak skipper is just seven runs away from fifty.
Pakistan 71/0 after 10 overs Varun Chakravarthy magic is yet to arrive as the Pak openers fetch 9 runs off the over, including a boundary off the first ball by skipper Azam.
Pakistan 62/0 after 9 overs Babar Azam adds pace to the chase by smashing Jadeja for a six over the cow corner. The over fetched Pak 10 runs as they need 90 more runs in the last 11 overs.
Pakistan 52/0 after 8 overs Mohammad Rizwan and Babar Azam have taken Pakistan past 50 in the 8th over as the opening duo changed to a precautions approach to deal with Indian spinners after adding 43 runs in the powerplay.
Pakistan 24/0 after 4 overs Two good overs for India with just six runs off them. Varun Chakravarthy seems at comfort on the pitch as he gave away just 2 runs in the fourth over while nearly outfoxing Azam off the last delivery. 
Pakistan 18/0 after 2 overs Shami starts from the other end,  Azam hits a crunchy backfoot cover-drive for a boundary.
Pakistan 10/0 after 1 over Rizwan starts strong, hits a boundary and a sixer on two consecutive balls in the1st over. 
IND vs PAK Live Hello and welcome to the live coverage of India vs Pakistan T20 World Cup 2021 Super 12 Match from Dubai. Hi this is your host for the night, Aditya K Halder, I will be taking you through the minute-to-minute updates of the much-awaited clash.
Take some rest folks! We will back with the Pakistan chase in 15 minutes time. The stage seems all set for a grand finale.
India 151/7 after 20 overs Tailender Bhuvneshwar Kumar (5*) took India past the 150-run mark after Hardik Pandya (11 off 8) fell early in the over to Rauf, who finished with a spell of 25/1. 
India 144/6 after 18.4 overs OUT! Afridi ends his spell with a bitter taste in his mouth as he gave away a no ball and two boundaries, the last being an overthrow, to change his final figure to 36/3.
India 133/6 after 18.4 overs OUT! Afridi packs Kohli's well-played innings at 57! This was the pacer's third wicket of the night. Must say, it's not easy to score on the surface and Kohli deserves all the credit for playing a knock his team needed. 
India 125/5 after 17.5 overs OUT! Hasan Ali has his last laugh over Jadeja, who he had taken at the deep mid-wicket after being smashed for two fours in the over.
India 116/4 after 17.1 overs Kohli takes a quick two of Hasan Ali to reach his half-century in 45 balls.
India 114/4 after 17 overs Another good over for Pakistan, Rauf gave away just four runs; Kohli will have to wait longer for his 50.
India 110/4 after 16 overs Kohli is sticking to his strength by playing textbook cricket. Decisive enough as he slammed Hasan Ali for two boundaries in the over; just four runs away from his half century.
India 100/4 after 15 overs India reach 100 after another tidy over by Shadab Khan. Kohli inches closer to his fifty.
India 96/4 after 14 overs Run rate falls after Pant's dismissal. Ravindra Jadeja is taking his time to settle down while Kohli placed Rauf for a boundary over the fine leg.
India 84/4 after 12.2 overs OUT! Pant falls before going big as he skies it high right to bowler Shadab Khan after scoring 39.
India 81/3 after 12 overs Pant onslaught has begun! The southpaw slammed pacer Hasan Ali for two sixes in the over. As many as 15 runs came off it!
India 66/3 after 11 overs Another good over for India with six runs off it! Pak skipper Azam brought pacer Haris Rauf into the attack after spinners failed to contain the Indian batting duo. However, the change hardly made any difference, except for the fact that no boundaries cam off it.
India 60/3 after 10 overs Pant continues to find crucial boundary per over; this time Hafeez on the receiving end. Seven runs come off it. 
India 52/3 after 9 overs A good over for India! Pant strikes a short delivery by Shadab Khan for a boundary! India cross 50-run mark.
India 43/3 after 8 overs: A tidy over by Mohammad Hafeez; just four runs off it. Pant survives a scare as the ball missed the bat by the slimmest of margin before being collected by the wicket-keeper Rizwan. The Pak 'keeper, however, seemed confident of an edge and called for decision review after his appeal was turned down by the umpire. The third umpire asked Marais Erasmus to stay with his decision as Pak loses a review; have one remaining in the innings.
India 39/3 after 7 overs: Kohli looks to steady the innings with newly-in Rishabh Pant after early assault from Pak pacers. Spinners are now introduced from both ends.
India 31/3 after 5.4 overs: Hasan Ali strikes in his first over of the night! SKY is gone after scoring just an 8-ball 11. Kohli's disappointment on the other end is palpable.
India 30/2 after 5 overs: Kohli joins the party with a massive six over long-on against bullish Afridi, who completed his third over of the night.
India 21/2 after 4 overs: Virat Kohli, along with Suryakumar Yadav, looks to rebuild Indian innings after early troubles. Surya took away the Pak pressure with a couple of boundaries.
India 6/2 after 2.2 overs: WICKET! This is not going according to plan for India as Afridi returns in the second over to castle KL Rahul for just 3.
India 2/1 after 1 over: WICKET - India are off to a poor start as opener Rohit Sharma departed for a duck. Shaheen Afridi strikes for Pakistan as he traps Rohit with a brilliant yorker. It was plumb the moment it hit Rohit. What a start for Pakistan. Virat Kohli joins KL Rahul. 
7:26 PM Indian players seem pumped up during the national anthem with Kohli singing loudest! The excitement for the game is through the roof!
7:24 PM Both teams are out in the field for respective national anthems, Pakistan anthem to be played first.
7:12 PM Talking on the sidelines of the match to the official broadcasters, Hardik Pandya confirms he won't bowl tonight. That effectively means Ravindra Jadeja, Bhuvneshwar Kumar, Varun Chakravarthy, Mohammed Shami and Jasprit Bumrah are our five bowlers for the night.
7:10 PM Kohli opted for Varun Chakravarthy over R Ashwin as spinner while Ravindra Jadeja is the other spinner. Check out the playing XI of both the sides.
India: 1 KL Rahul 2 Rohit Sharma 3 Virat Kohli (capt) 4 Suryakumar Yadav 5 Rishabh Pant (wk) 6 Hardik Pandya 7 Ravindra Jadeja 8 Bhuvneshwar Kumar 9 Varun Chakravarthy 10 Mohammed Shami 11 Jasprit Bumrah
Pakistan: 1 Babar Azam (capt) 2 Mohammad Rizwan (wk) 3 Fakhar Zaman 4 Mohammad Hafeez 5 Shoaib Malik 6 Asif Ali 7 Shadab Khan 8 Imad Wasim 9 Hasan Ali 10 Haris Rauf 11 Shaheen Shah Afridi
7:02 PM: Pakistan captain Babar Azam has opted to field first after winning the toss against Virat Kohli-led India in the Super 12 match of the T20 World Cup in Dubai on Sunday.
6:55 PM: Hang on folks! We are just five minutes away from the big toss!
6:30 PM: Indian captain Virat Kohli is in a dilemma over the team's selection as far as spinners are concerned. Will it be the experienced campaigner R Ashwin or mystery spinner Varun Chakravarthy?
6:18 PM: With minutes to go for the match, let's take a look at the build-up of the match through Indiat TV's wide coverage of the mega clash.
India vs Pakistan Live Streaming T20 World Cup 2021: How to Watch IND vs PAK Super 12 Match Online. The match will be played at Dubai International Stadium on Saturday, October 23. The match is set to start live at 7:30 p.m. IST.